The U.S. Commerce Department reports that web sales (Ecommerce) have been increasing 10+% year over year since 2010. Last year (2015), web sales were over $300 billion and are expected to exceed $500 billion in the next 5 years. As a retailer, are your online sales rising with the industry or are you losing out to competitors who are attracting more customers online?
There are many factors that go into a retailer's online success – user experience, ease of completing a transaction, mobile-friendliness, and more. This post is going to focus on driving repeat visits and sales through the art of Remarketing.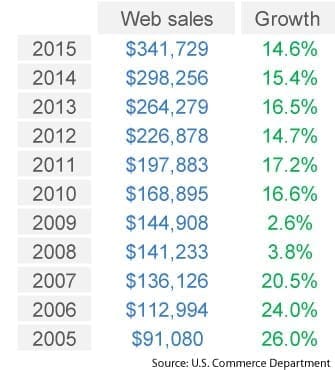 Remarketing is targeting your Pay per Click ads to users who have or are similar to those who have, interacted with your brand via the web. This interaction could include previously visiting your site, watching one of your YouTube videos, or voluntarily giving you their email address. I am sure that you have visited a site and have then noticed that their ads seem to "follow" you as you visit other sites – this is an example of remarketing.
Why Utilize PPC Remarketing Efforts?
Reach users that are more likely to purchase because they have previously interacted with your brand.
Bring back current customers – people that purchased that winter coat may be in the need for gloves, scarves, hats, and other winter clothes
Rescue abandoned shopping carts – A person did "window shopping" on your site and created a wishlist or shopping cart, but never purchased. Reach him or her with a remarketing ad and close the potential sale.
In addition to that short list, remarketing can often lead to higher conversions (sales from ad clicks) at a lower cost (CPA) which means higher margins and Return on Ad Spend (ROA) for you! If you have questions or would like help leveraging remarketing to boost your sales and Return on Ad Spend, contact DaBrian Marketing Group today or leave a comment below.