Everyone has been affected by the COVID-19 pandemic, but we know that many small and medium sized businesses are feeling particularly vulnerable right now. Brick-and-mortar retailers are looking for new ways to sell amidst a number of physical challenges; doctor's offices are looking to assuage doubts about in-person visits; and online businesses want to attract new customers. 

Whatever your situation, a half-year of varied customer responses to COVID-19 have given us some insights into the marketing trends that are working and what to expect in 2020 — and beyond. While we all know consumers have shifted more online, businesses need to structure their marketing teams to best tap into that traffic, communicate more effectively, and ensure that social media gets increased attention.  
The most obvious marketing response prompted by COVID-19 has been the acceleration of digital. Stay-at-home orders, physical distancing, and remote work & school have changed the way consumers shop and interact. Naturally, businesses are shifting how they attract new clients and retain long-time ones. Deloitte outlines four marketing keys for organizations to make the shift a smooth transition:
Keep Your Team Connected

– Ensure your team has the resources needed to effectively communicate and coordinate with each other and customers 

Engage Customers with Unified Empathy

– Listen to your customer and ensure the interactions they are having with your brand are consistent across channels

Personalize Digital Experiences

– Now is the time shift resources into digital techniques such as remarketing ads to deliver the right message, to the right person, at the right time

Optimize Marketing Resources

– Now more than ever,

you need analytics experts in your corne

r to ensure you're leveraging the wealth of information at your fingertips
Especially when engaging with potential clients, you need to create personalized journeys across the channels and in the settings that they are now using. For example, in recent months, we have seen a sharp reversal in the trend away from mobile devices as at-home users move back to desktop. Without a careful adjustment to your SEO strategy, your website might have the wrong focus, leading to lost customers. You also need to carefully consider how your customers can and will interact with your business. As customers expect a seamless experience, your service channels must deliver a consistent message to maintain loyalty.
According to McKinsey, the availability of products and services is the number one reason customers are switching their brand allegiance. For marketers, this means a number of things. The most obvious (if most difficult) tactic is to increase the days of inventory on-hand of products or the availability of time slots for services. With more people working from home and many kids learning remotely, some physicians and doctors offices with whom we work have reconsidered staffing toward more daytime slots and fewer night and weekend hours.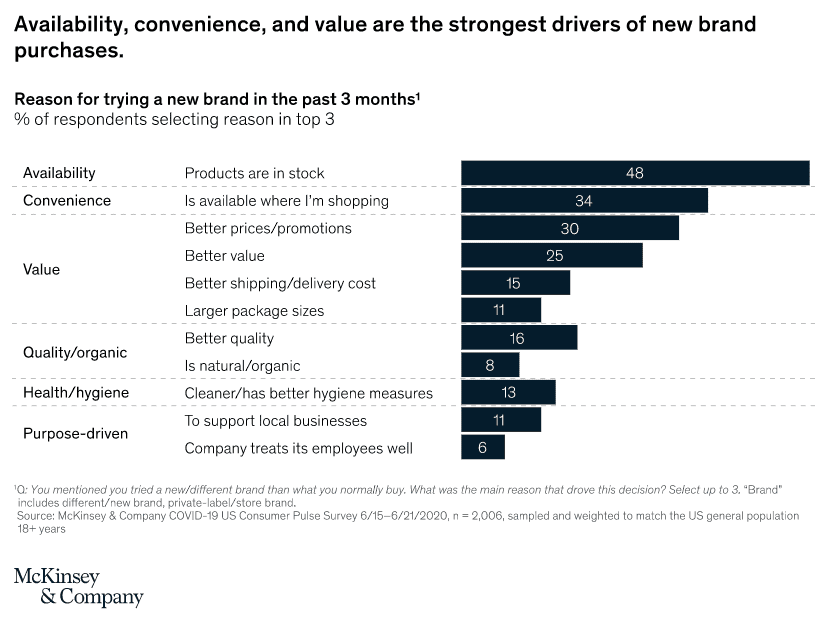 But what if the overseas lead time for your products precludes increasing stock levels? This is where timely communication is paramount. Depending on industry, we've seen returning traffic increases of up to 1200% in the months following the COVID-19 pandemic, as users return again and again to a website. For high-volume items, consider placing a banner on your cite to indicate when the product will be in-stock. If you aren't collecting customer emails, now is the perfect time to create a subscriber list so that you can be proactive with notifying customers of availability.  
Social Holds The Key To 2021
Organizations should be prepared to dedicate more resources to social media marketing in 2020 and beyond. Social media budgets accounted for almost one-quarter of total US marketing budgets this summer, up from 13% this winter. During the pandemic, marketers are increasingly making customer retention a priority. Presented with a list of 5 objectives and asked to choose their primary one, more than twice as many marketing leaders pointed to customer retention (32.6%) as acquisition (14%).
And the primary method businesses are using to engage and retain is social media. Your customers are looking for ways to interact with others in a social-distanced world; to connect with others and even to be distracted from everything that's going on. Social media is the perfect platform for brands to engage with customers in this way and create opportunities for now and into the future. Platforms like Facebook, Twitter, Instagram and LinkedIn can help you start and maintain meaningful conversations with your most important assets.
Being prepared for the post-COVID world means setting up your marketing and customer service teams for success, communicating more effectively, and ensuring that you're having good conversations with your clients and leads. Stop wasting valuable resources on pre-pandemic tactics — re-allocate your marketing spend to attract and engage the right customers, in the right place, at the right time. If you still have questions, contact DaBrian Marketing Group today.