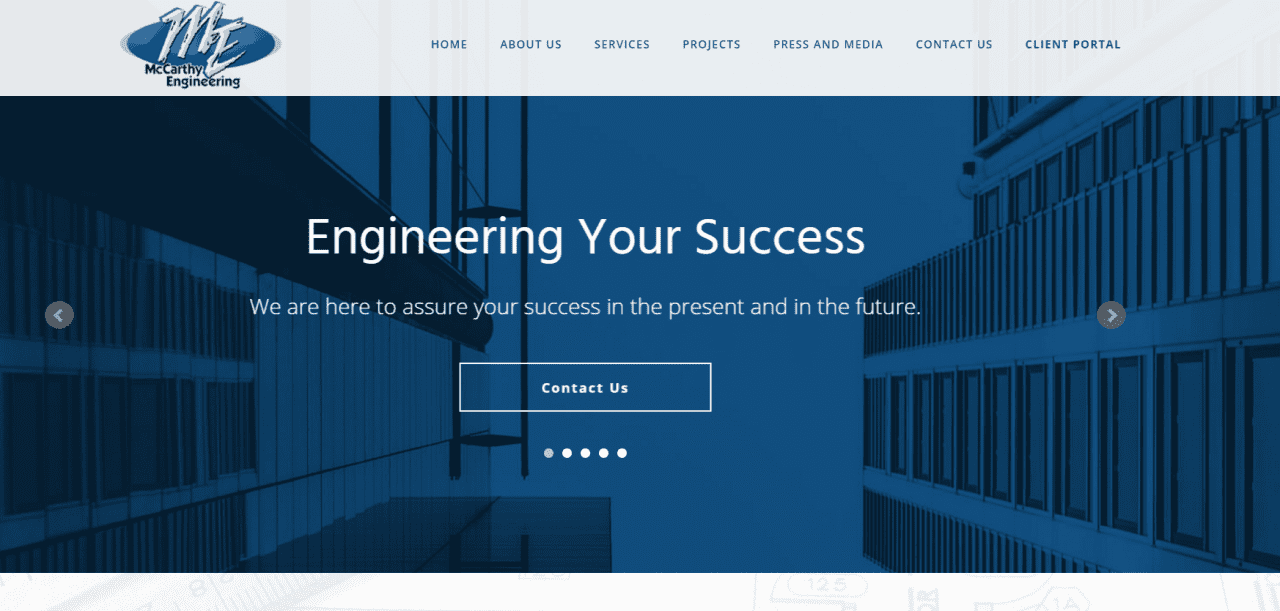 Reading, PA – November 16, 2016 – DaBrian Marketing Group, LLC develops McCarthy Engineering's new website which has been active as of October 26, 2016. After McCarthy Engineering's recent acquisition of N.E. Fisher and Associates, the main focus was to combine the two companies' websites and improve the overall user experience when McCarthy came to DaBrian Marketing Group for the redesign.
The new McCarthy Engineering website allows users to easily find the services offered, geographic areas served, prior projects conveniently categorized by industry, as well as contact information. The simple and sleek navigation allows each visitor to find the information they need, whether they are utilizing a desktop, smartphone, or tablet. Clients can actively access their portal login on any page. The modern design also makes requesting additional information more accessible through contact forms. Video integration with YouTube allows viewers to experience high-quality videos directly on the website, too.
McCarthy's innovative approach and out-of-the-box thinking has earned the firm a reputation as the trusted advisor to turn to for especially challenging projects. From civil engineering, subdivision, and land development to environmental services and survey engineering, they take great pride in the thoroughness of their services and the quality of their work. McCarthy's goal is to continually exceed customers' expectations and deliver engineering excellence in everything that they do. They actively recruit the best talent in the industry, and their firm remains on top of its game by providing team members with ongoing specialized training, state-of-the-art equipment and cutting edge technologies.
Michael Coulton, Chief Operating Officer of McCarthy Engineering, said,"McCarthy Engineering wanted a website that communicated the engineering and consulting solutions we provide to our clients as well as who we are and what makes us different. We wanted our current and potential new clients to fully understand the McCarthy Engineering brand and values, as well as see projects and capabilities that would interest them when they visit our website. DaBrian Marketing has made our online presence stronger by creating a modern, aesthetically pleasing, easy to navigate site that works well in a desktop and mobile environment. We are thrilled that our new site delivers a truly user-friendly experience in a platform that allows us to reach people in a way we have not be able to before."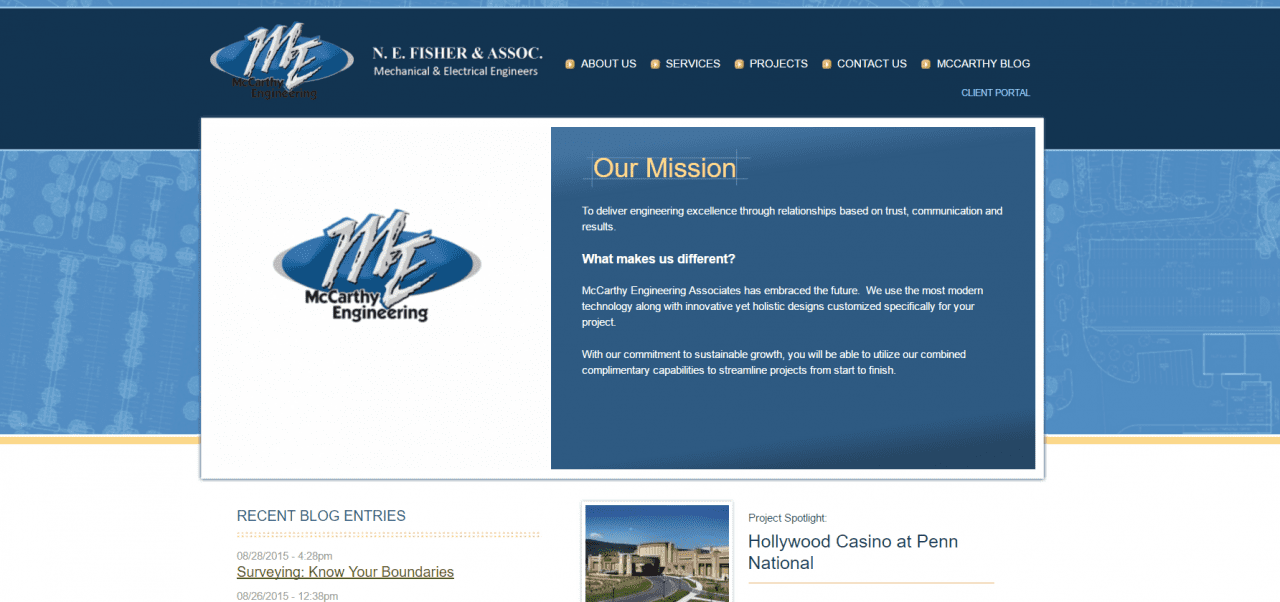 McCarthy Engineering and N.E. Fisher and Associates merged on January 30, 2015. The new McCarthy Engineering website can be found at http://www.mccarthy-engineering.com.
For more information about DaBrian Marketing Group's web design services, call 610.743.5602 or email sales@dabrianmarketing.com.
About McCarthy Engineering
McCarthy Engineering, established in 2000, provides a full suite of engineering and consulting expertise to centralize responsibility and accountability in one firm, for peace of mind and long-term cost savings. McCarthy Engineering is licensed to serve 19 states in civil site engineering, structural engineering, mechanical-hvac, electrical engineering, plumbing and piping, land surveying, and more. The company has two locations: one located in Wyomissing, PA and the other in Boyertown, PA. For more information about McCarthy Engineering, call 610.373.8001 or email info@mccarthy-engineering.com.
About DaBrian Marketing Group, LLC
Founded in 2008, DaBrian Marketing Group, LLC is a full-service digital marketing agency, focused on providing original and strategic digital marketing solutions for businesses, that want to create digital awareness, increase return on investment (ROI), and identify insights that not only will help achieve goals but will also help to increase your business's efficiencies. DaBrian Marketing Group's services include email marketing, search engine optimization, Pay Per Click Advertising (paid search), web design, web analytics, social media marketing and more. Company headquarters are centrally located at 500 Penn Street, Suite 201, Reading, Pennsylvania 19602. For more information about DaBrian Marketing Group, visit dabrianmarketing.com or call 610.743.5602.