Millennials, we're the worst, aren't we? A generation full of young people that seem to be disconnected from the real world, and more entranced in the digital realm. A generation who is associated with being anti-social in person, but obsessed with social media. A generation, that many businesses are missing out on. As we (millennials) grow older, our economic impact and purchasing power increases. Targeting millennials is imperative to your business' success. The most common way to reach them is to utilize Ecommerce on your website. Follow these SEO tips to get started.
1. Need and Availability Override Brand Loyalty
Millennials, known for challenging the status quo, can be a challenge to market to. We're not worried about staying loyal to specific brands. We want a product/service, and we want it NOW. In a society engulfed by a 'hustle and bustle' mentality, we don't have the time to extensively search, and we don't want to settle on an alternative option from a familiar brand. Make sure your website is optimized, and your products are readily available. This will not only increase your search visibility (the amount of times you appear for a given search), but also your probability of sales.
2. Local SEO and Mobile: Can I find you on the go?
In 2016, it may surprise you that , most businesses don't just exist online. Shocker, right? With that being said, finding your store is a lot different than how Grandpa used to do it. Today, mobile is our new local directory. Before we even think about leaving the sanctity of our homes and experiencing the unknown (aka the outdoors), we use our smartphones to find stores within our area. That means local SEO is extremely important. If you don't rank in your backyard, how can you expect your business to show up anywhere? Still not convinced? Well check out these statistics from Think with Google.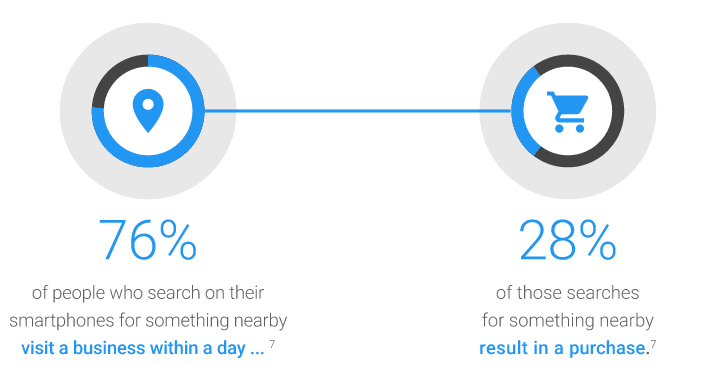 Optimizing your website for locality is an extensive an ongoing process. Here are some tips and techniques to follow to help you dominate the local market:
Have your name, address, and phone number (NAP) consistently accurate all throughout your site (I suggest in your footer).Embed Google Maps (viewing your location) on your contact us page.
Be listed on major local listing platforms such as

Google My Business

, Facebook and Bing Places.
Use local keywords in your URLs, TTD's, and content, where appropriate.
3. Does Your Website Function properly?
As many of you know, Millennials aren't known for having a great attention span. In fact, our attention spans are now down to 8 SECONDS! We're basically a bunch of goldfish with smartphones. That means if your site does not work properly, or we can't quickly find the product/service we want, we're on to the next one (your competitors). To prevent that from happening, make these tips and issues a priority.
Technical errors:

Have redirects set up properly for pages with 404 errors.
Resolve duplicate content issues.
Learn more about technical issues that impact your organic search.
Have the following function properly to ensure a smooth purchasing process:

Search Site functionality
Discount/Coupon Codes (Please, we're broke.)
Shopping cart works – Being able to add as you shop, and return to shopping without losing products.
Customer Service:

If your site doesn't function properly, or a potential customer has questions, you need to have someone readily available to provide assistance and secure a sale.
4. Matching the Online Experience With the Real Deal
If you want your online store to perform as well (or better) as your physical location, you need to treat them the same. Don't be that parent that has a favorite child, Dad. Your customers expect the same experience online, as they receive in person. To do so, make sure all of your in-store products are online and offer customer support. The better experience your customers have online, the higher probability that they will either purchase the product, and/or visit your store in person.