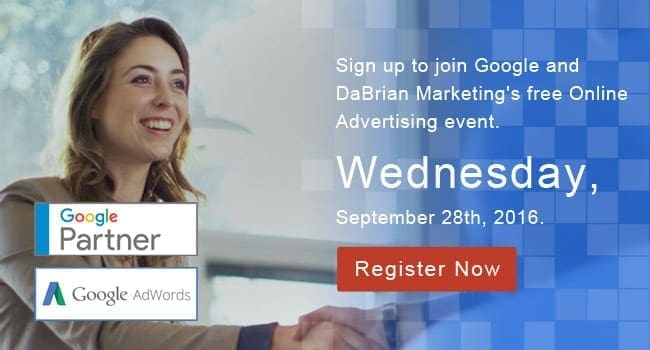 DaBrian Marketing Group, a Google Certified Partner, will hold a Google Connect education event provided by a Google employee on September 28, 2016.
Reading, Pennsylvania – DaBrian Marketing Group, LLC, leaders in online advertising and digital marketing solutions, will host a Google Connect event from 11:30am to 1:30pm on September 28, 2016. The event will be hosted at DaBrian Marketing Group's offices at 500 Penn Street, Suite 201 in Reading, Pennsylvania, and will feature Tim Reis, Director of Performance Agencies, and David Chung, Mobile Site Transformer, at Google. This event is only available at Google Partner locations. Reis and Chung's live-streamed presentation will focus on online advertising capabilities and Google Adwords.
According to Google, 74 percent of people get frustrated with website offers, ads, and promotions that appear to have nothing to do with their interests. In addition, 76 percent of people who conduct a local search on their smartphone visit a business within 24 hours, and 28 percent of those searches result in a purchase. This event will help businesses to gain a better understanding of what their company could and should be doing to effectively use online advertising, delivered straight from a Google employee who specializes in this work.
"In discussions with potential clients, they often assume that Google AdWords is just search which simply is not the case. We help clients to identify opportunities that align with their business, geography, and target audience," says Daniel Laws, Jr, President and CEO of DaBrian Marketing Group. "Through this event, businesses can discover the true power of Pay per Click advertising and how DaBrian Marketing can manage their ad campaigns that will successfully allow them to stand out amongst their competitors and gain the leads they want most."
DaBrian Marketing Group is a full-service digital marketing agency and Google Certified Partner that specializes in pay per click advertising, online advertising, and Google Adwords. They are local experts and offer their clients extensive experience with the Google AdWords platform and certifications. The company is able to access frequent updates from Google directly because of a close professional relationship they have developed when they need advice. This Google Connect event is free of charge and lunch will be provided. To register, visit the online registration page.
DaBrian Marketing Group, LLC.
DaBrian Marketing Group, LLC provides clients with the most innovative digital marketing solutions to solve their business challenges. Their diverse staff has a commitment to analytical measurement and analysis as well as their commitment to a community, job growth, and talent retention in the local area. For more information, visit DaBrianMarketing.com.
Contact Information
DaBrian Marketing Group
Email: Search@DaBrianMarketing.com
Phone: 610.743.5602
Source: DaBrian Marketing Group