Reading, PA – August 23, 2017– Penske Racing Shocks hand builds high-performance shock absorbers tailored to customer's needs, and they wanted their website to match that performance. Perpetually driven to be the best at everything they do, Penske Racing Shocks gave DaBrian Marketing Group the green light to create a new Ecommerce website design and revamp the digital marketing strategy for the famous manufacturer.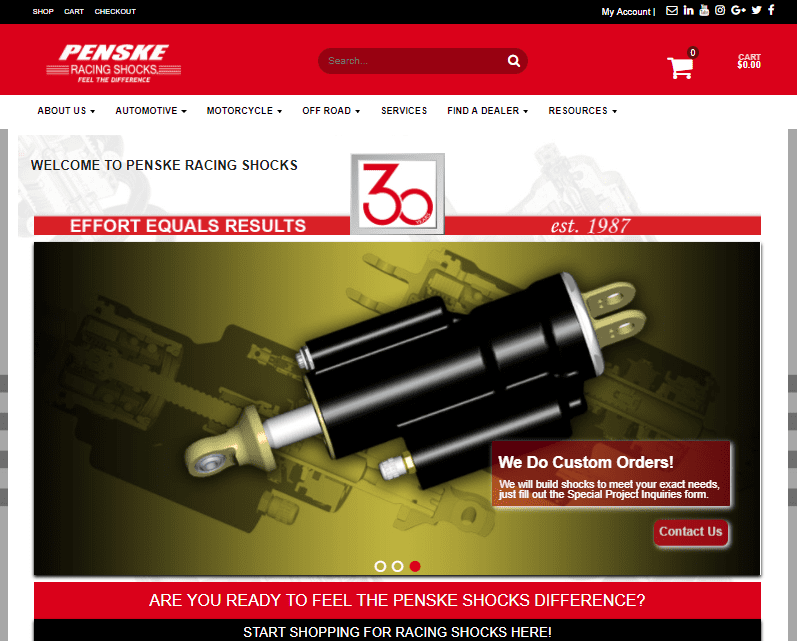 DaBrian Marketing put a substantial amount of energy into giving the website a sleek new design. A combination of web design and search engine optimization (SEO) techniques made the new website a well-oiled machine for both Penske Racing Shocks' customers and employees. Many of the updates were aimed at providing a smooth user experience while increasing the speed of the site.
After an in-depth analysis, the site was reorganized to allow potential customers to reach their destination quicker and easier based on specific racing style and environment. The ecommerce site's product feed was also optimized to enhance user experience, help visitors find products easily, and increase product visibility.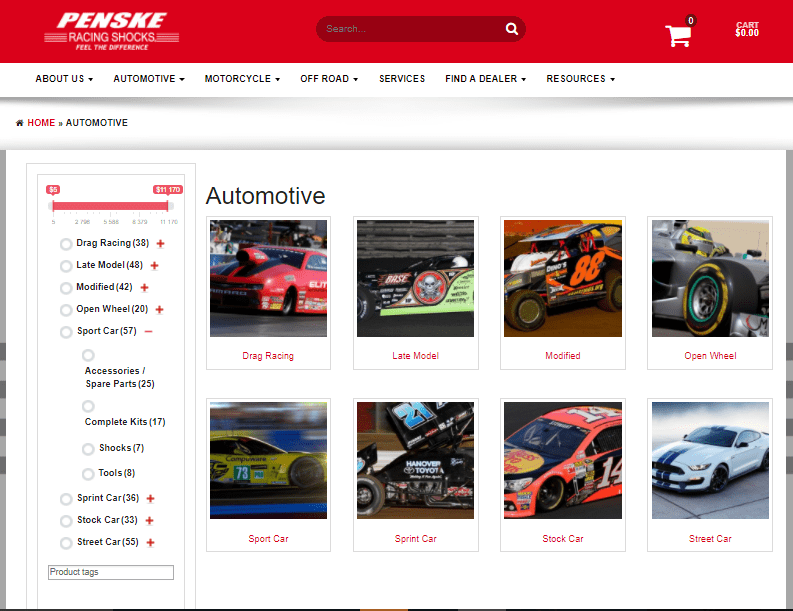 Today, the Penske Racing Shocks website is easy to use, pleasing to look at, and features live price updates, clear tax and shipping information, as well as convenient and secure payment gateways.
DaBrian Soups-up Penske Racing Shocks' Ecommerce Marketing to Boost Sales
While the project has consisted mainly of web design, the professionals at the digital marketing agency have executed on other marketing initiatives as a part of Penske Racing Shocks' Ecommerce marketing strategy. In fact, the first assignment DaBrian Marketing completed was a redesign of Penske Racing Shocks' branded and product-descriptive flyers. The design of the flyers was the basis of the website design to ensure brand consistency.
DaBrian Marketing Group then provided a one-time social media marketing consultation to help Penske Racing Shocks reach more fans on Facebook, Twitter, and Instagram.
Aaron Lambert, Director of Competition, expressed his satisfaction with the partnership,  "Penske Racing Shocks number one goal is our customers. Whether it's understanding how to rebuild their own shocks, tune their vehicle at the racetrack, or just find some information that will help them understand what they are buying. Here at Penske Racing Shocks we build championship winning suspensions, so we teamed with DaBrian Marketing to help give us that same quality in our marketing, website, and social media platforms. It's been a great experience so far, and we are very excited to see our new website launch, as well as other exciting ideas coming down the line."
As the relationship continues, Penske Racing Shocks plans to execute on email marketing campaigns for their Ecommerce website. Emails will be used to send newsletters, announce product updates, discuss maintenance availability, and remind users of forgotten items in their online shopping carts.
About Penske Racing Shocks
Penske Racing Shocks is the global leader in suspension technology. Formed in 1988, Penske Racing Shocks have a worldwide reputation for producing quality shock absorbers. Their mission is to supply customers with the best suspension technology and technical support available. Penske Racing's office is located at 150 Franklin Street, Reading, Pennsylvania, 19602. Contact the company with questions or inquiries on their website, www.PenskeShocks.com or call 610.375.6180.
About DaBrian Marketing Group, LLC
Founded in 2008, DaBrian Marketing Group, LLC is a full-service digital marketing agency that provides original strategic digital marketing solutions for businesses. DaBrian Marketing Group's services include email marketing, digital branding, search engine optimization (SEO), Pay Per Click (PPC) Advertising, web hosting, web design, web analytics, social media marketing, and more. Company headquarters is centrally located at 500 Penn Street, Suite 201, Reading, Pennsylvania 19602. For more information about DaBrian Marketing Group, visit DaBrianMarketing.com or call 610.743.5602.