Potential customers are searching for your products and services on Google. While you have invested in SEO (search engine optimization) and are acquiring organic traffic, you could be reaching more customers with PPC (pay per click). The problem is: where do you begin? Keywords, Ad Copy, Bids, Match Types, Ad Extensions, Landing Pages, Budgets, Placements, Mobile Ads, Display Ads, Day Parting, and Bid Adjustments to name a few…
Don't worry! There are digital marketing managers and agencies that can help you. However, be very careful when selecting someone to manage your Google AdWords account and digital marketing dollars. Here are a few things to look for as you search for help with your PPC:
The first step to becoming a Google Partner is having at least one employee get individually certified with Google AdWords. One must take and pass at least two exams to become a certified individual. The first must be the basic Google AdWords Fundamental Exam. Afterwards, one can choose which speciality exam(s) to take. These exams cover Search, Display, Shopping, Video, and Mobile.

One employee must be individually certified for an agency to be an eligible partner, however, the agency still needs to meet performance requirements. These requirements dictate that the agency have a proven record with managing over $10,000 in 90 days as well as continuing to grow (in Ad Spend).
Not All Google Partner Agencies Are Equal
An agency with one certified employee in one domain of Google AdWords can showcase the same badge and "Google Partner" status as an agency with 10 certified employees in all five of AdWords categories. Recently, Google has addressed this concern by awarding agencies with specializations. These specializations require an agency to have at least one employee certified in a certain category and maintain a minimum of $10,000 managed spend in that category (search, display, shopping, video, or mobile).

Look for an agency that has employees that are both certified and experienced with managing ads within the categories that you are/will be running. Don't forget to allow room for growth. Just because you aren't thinking about video ads now, doesn't mean that you won't create them in the future. Having an ally that knows how to manage them helps to boost the performance of your other (search, display, etc.) ads as well as grow your business with profitable advertising.
Don't Forget Google Analytics
Although it is not a requirement to be a Google Partner, having employees that are certified in Google Analytics ensures that the agency knows how to measure the efficacy of your ads and their performance beyond simple clicks. Connecting Google Analytics to your Google AdWords account allows for the tracking and monitoring of users that come to your website via PPC ads and their interactions with your pages. Having a PPC manager that understands Google AdWords, Google Analytics, and your business' goals ensures that your Return On Ad Spend (ROAS) is maximized.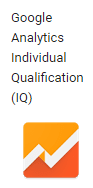 Before hiring a team to run your Google AdWords, make sure that they have the knowledge and experience to deliver the results that meet (or exceed) your expectations. First, look for the Google Partner Badge. Secondly, make sure that the agency has at least one person who is certified in the category or domain that you want to run your ads. Finally, look for individuals who are certified in Google Analytics to ensure that they can measure and showcase Return On Ad Spend (ROAS).  
If you have PPC questions, if you are looking for help managing your Google AdWords, or if you just want to audit your current account, contact DaBrian Marketing Group(a Google Partner), today!