Earlier this year, Google released an algorithm change that essentially said that websites that were not mobile friendly would be penalized and fall in their rankings. This algorithm change means that it is vital for every business to make sure their site has a mobile design to perform well. Here are 5 tips for mobile search engine optimization (SEO) every business owner should follow to make sure their website is successful.
1. Have a Responsive Design
Many business owners fear that by creating a mobile site, they will either need to have a complete overhaul of their current site, or create a new, separate site. Fortunately, this is not the case thanks to responsive design. A responsive design means that the appearance of your site will change based on the device being used by visitors. With a responsive design, you only use one URL, which eliminates the possibility of being penalized for duplicate content. A responsive design is also recommended by Google because it is more efficient for Google to scan and review, which will help increase your businesses rankings within search engines. Shown below is the desktop view of our site (left) and the mobile design (right) using responsive design.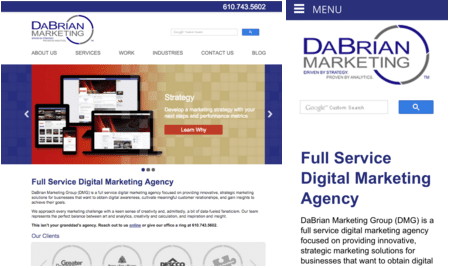 2. Consider Mobile Design first
According to Google, more searches happen on their platform via mobile than on desktop in the U.S. We can predict that these numbers will only continue to increase as more Americans obtain mobile devices, thus putting more importance on mobile design. More mobile traffic means that when designing your site, you should consider the mobile design first. Once you're finished the design, use your mobile site as a core basis for developing your desktop view. There is nothing you can put on the mobile version of your site that you can't put on the desktop version.  Progressively enhance your desktop view with extra information and a more extensive navigation (as long as it's relevant).
3. Design for the Existing & Prospective Customers
Just as you should design the desktop version of your site with the user experience in mind, the same applies to the mobile design. With that being said, there is a slightly different art to it. For one, the navigation of the mobile version should be condensed to only include the most important pages that drive the most traffic. Also, the buttons and links on the site should be designed for bigger fingers. Bigger buttons and links will increase the ease of use that will certainly impact the user's actions. If the buttons and links are too small, many users may become frustrated attempting to travel through your site, which will likely cause them to leave.
 The page speed and load time of your site are not only a ranking factor but also impacts the user's experience. Obviously the faster the speed of the site, the happier the user will be. In order to reduce loading time, rich content (images and video) should be optimized (fitting the size of the image to the screen size) and used sparingly.
4. Enhance Your Site for Local Customers
Just as mobile has become increasingly important for search engines, so has local SEO. In fact, they are directly correlated. According to Google, 50% of consumers who conducted a local search on their smartphone visited a store within a day, and 34% who searched on computer/tablet did the same. This means that your business name, address, and phone number should consistent all throughout your site, and off your site as well on local listings (Google My Business, Bing Places, Etc). This allows search engines to associate your business with a specific geographic location, which in turn increases your business's local search rankings.
5. Add a Click to Call Number
The goal of a successful SEO campaign is to generate sales and leads, so why not make it easy for your customers to reach you? Adding a click to call number on every page of your mobile site allows users to take the next step in your sales process. Here at DaBrian Marketing, we use a click to call number on our mobile site, as seen below.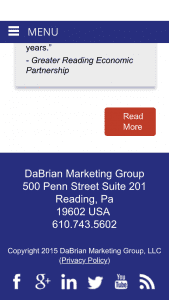 As the number of mobile devices and traffic continue to increase, so will the importance of Mobile SEO. To make sure your business does well, it is imperative to adhere to the tips listed above.
For more advice or information about mobile SEO, please Contact Us today or leave us a comment below!
By: David McDowell