Search Engine Optimization (SEO) is an on-going and always evolving process. This year we saw several updates such as Google's Mobilegeddon. With this year shortly coming to an end, here are 5 SEO predictions businesses can expect to see in 2016.
According to the Pew Research Center, 64% of Americans have a smartphone and 42% own a tablet. With continuous technological advancements, smart technology is becoming more readily available. Due to this, mobile traffic has been steadily increasing and you can only expect it to go up. In fact, Google announced this year that more Google searches take place on mobile devices than computers in the US.
What does this mean for your business?
First thing's first, you need to have a responsive design to comply with Google's mobile- friendly algorithm change. That means that the layout of your site will change depending on which device the viewer is using it on, so that it will be visually appealing. Besides the technical aspect, you also must think with a mobile mindset. Give your viewers a better user and visual experience by utilizing spacing, highlighting the most important parts of your site, and increasing the size of touch buttons to help improve the ease of use.
2. Local SEO will be HUGE!
A study by Google shows that 4 in 5 consumers use search engines to find local information such as a business's address, hours, and products/services offered. The study also shows that 50% of consumers who conducted a local search on their smartphone visited a store within a day.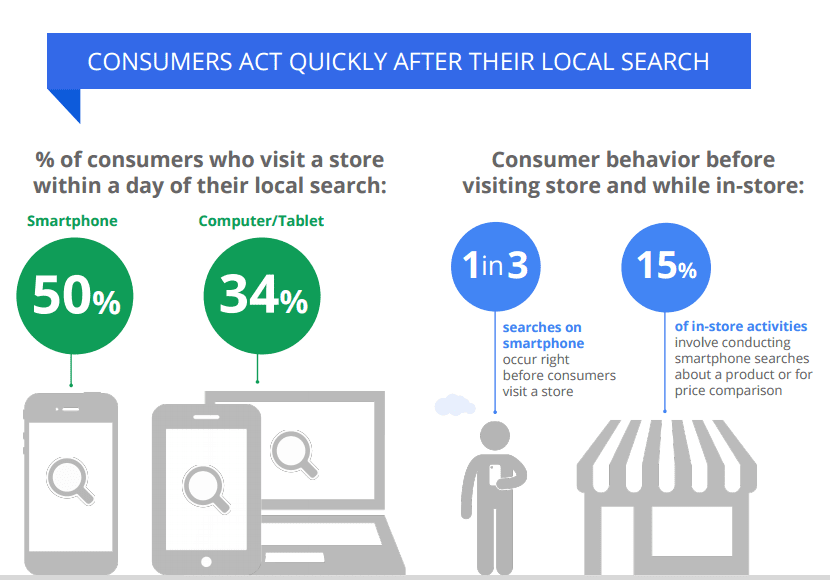 How to make sure your business isn't dropping the ball
One of Google's and other search engine's biggest ranking factor is your company's NAP (Name, Address, and Phone Number). Search engines want to see your contact information clearly stated and consistent not only across your site but also in other listings across the web. To make sure your site performs well, update and verify your local listings across platforms such as Google My Business, Bing Places, and Yahoo local.
3. The Increase of Voice Search
Voice searches have become increasingly popular thanks to the emergence of Apple's Siri, Google's voice recognition, and other voice recognizing software. As they become more useful and efficient, people will begin to voice search more often as opposed to typed search.
So how is voice search any different from typed search? Well, voice searches are usually longer and more question focused whereas typed searches are typically straight to the point. For example, a voice search may be, "Where is the closest pizza restaurant in Reading?" A traditional typed search would most likely, "Pizza restaurant Reading." Voice searches tend to start who, what, when, where, why, and how.
This not only means your local listings should be up to date and verified, but you should develop your content with these questions in mind. If your content answers these questions, you'll have a satisfied user which tends to translate to a lead or sale.
This also changes your keyword selection and management. Long tail keywords are now more important since voice searches contain more words. For example, instead of just having the keyword "SEO," you should also look into "how to improve your SEO." Below is a chart from Microsoft showing the difference between voice and typed searches in terms of keyword length.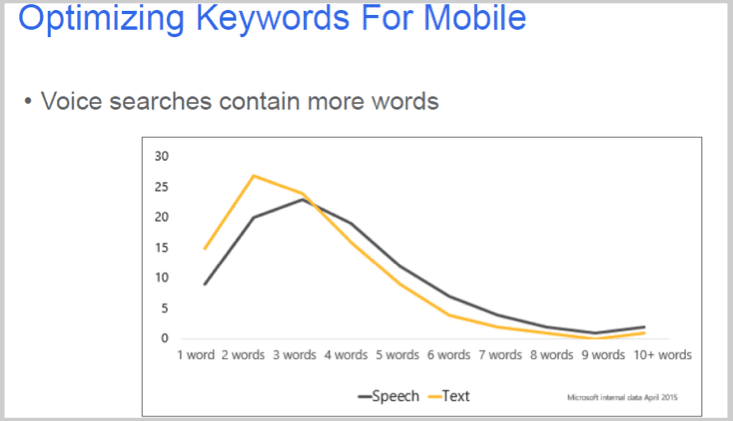 4. Merge SEO Strategy with Content Marketing
In the past SEO and Content marketing have been separated. SEO was thought to have been more technical whereas content marketing was creating high-quality content with the intention of retaining customers. Google and other search engines have put a huge emphasis on the user experience and will continue to do so. If you want to have a successful SEO campaign, you'll have to understand that content is king, and the user experience is what matters the most. Thus, businesses must become active bloggers and also become active on social media. They should share their content and other helpful content as well. This will help build organic links from reputable sites which will increase your brand reach and visibility. All of this comes back full circle to an increase in customers and sales.
While it is obvious Google owns the Lion's share of the search engine market, do not forget about Bing. Bing is now integrated will Apple's voice assistant Siri and on top of that, Google and Apple's search contract for Safari is coming to an end. Bing will have a great opportunity to land that contract. Bing is also integrated with Cortana, Microsoft's voice assistant, which is packaged with Windows (8.1 and 10) PC and Mobile as well as Xbox 360. According to Netmarketshare.com, Bing is integrated into over 17% of operating systems. If they are able to lock in the Apple search contract, that would push them over 22%. This means that businesses must be aware that there are more search engines than just Google. To avoid missing out on Bing, update and verify your listings on Bing Places to make sure they're accurate and consistent.
The main takeaway to help prepare your business for 2016 from an SEO perspective is to be mobile-minded and to be listed accurately and consistently across all platforms with content based around the user experience. If your business can accomplish that, there is no reason why your SEO campaign won't be successful.
Contact us today or leave us a comment below for more advice or information!
By: David McDowell