In the past, both social media and SEO were worked on in silos. SEO was primarily focused on technical improvements and on-page optimization while social was (and often still is today) not even considered a part of the strategic marketing plan. To maximize your digital marketing efforts, SEO and social media need to be in a committed, strategic relationship.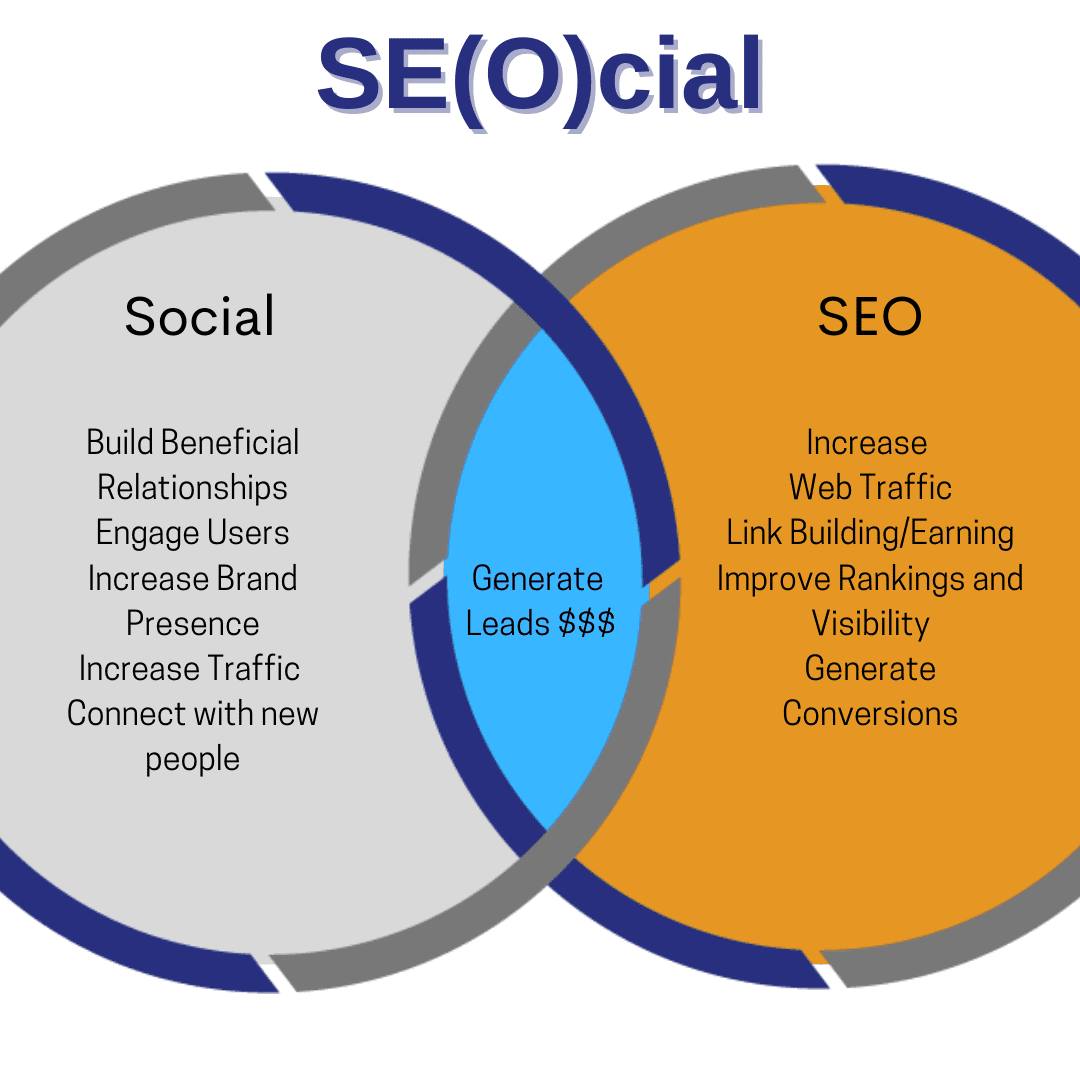 1. Social Signals Are A Ranking Factor
As the use of social media continues to grow, so does the influence it has on search visibility (the likeliness of being found within search results). In 2016, Google and Twitter agreed to make a deal that now gives tweets a prominent position within the SERPs (search engine results page). Additionally, Facebook and (especially) Google + both show up within Google's organic search results. This not only means that you need to be active on these major platforms but also that it's imperative to optimize your accounts. 
Create relevant posts to reflect your strategy (using the same keywords, message, and tying them all together).
The image below shows social media presence amongst Google's organic search results.

Search engines not only take into account being listed on these social platforms – they also evaluate your authority. A company with millions of followers receives stronger social signals than a company with a few hundred. With that being said, search engines aren't stupid. Social media metrics can be easily manipulated and search engines know when that happens. For example, search engines can detect the quality of your followers. This means buying 100,000 proxy Twitter followers will not do much. 
The best approach is to build your following organically. Keep in mind that this takes time to do it right. 
2. People Are Showing Love, Love Them Back
Your business' digital presence is not limited to your website; it's throughout the entire internet. People are talking about your business and their conversations have a direct impact on your efforts. You need to be a part of the discussion. This is where both SEO and social media come into play (in holy matrimony).
With SEO, your company will have complete access and control of your local listings, some of which incorporate popular review systems (Google My Business, Yelp, etc). With social, you'll interact – through comments, likes, shares, and retweets – with the actual people that use those popular review systems. Through proper management, you'll see when anyone mentions your company's name (even when you are not directly tagged in the post).
Facebook also has a popular review system. Most of the time, if a consumer is unsatisfied, he or she will immediately go to social media to complain or write a review. 90% Of Customers Say Buying Decisions Are Influenced By Online Reviews. Not monitoring and responding to them is a huge missed opportunity.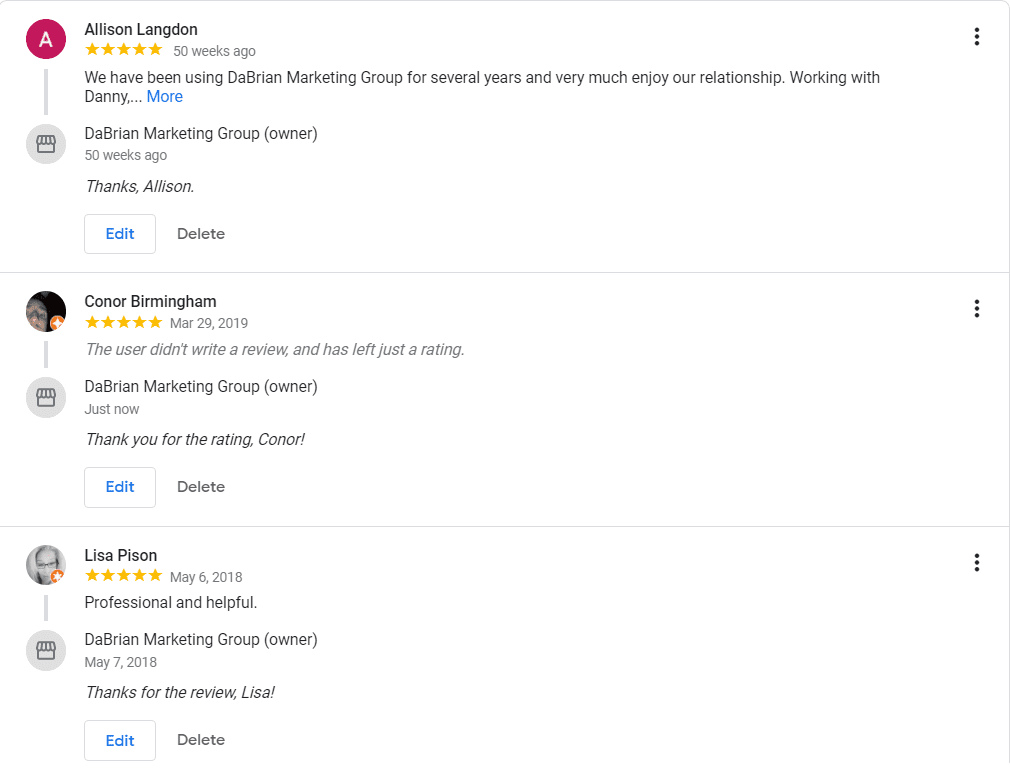 3. Social Sharing is Caring
In terms of outreach: The goal of SEO is to acquire more high-quality links and increase visibility for new/existing traffic, lead conversion, and content exposure. The goal of social media is to engage with your community, connect with new audiences, and increase your brand presence.
Now, as social media and SEO have begun to blur the lines of separation, these both have been somewhat combined, naturally.
As opposed to traditional, and often ineffective, outreach methods – emails or contact submissions – a more modern approach is connecting with target audiences via social. By creating these social relationships, you'll not only know which of your followers to send your content to, but you also enhance the probability of them sharing and reposting it. While social links do not carry the same link juice that highly-reputable sites do, it does increase your content's overall exposure. This increases the chance of reaching other industry influencers and succeeds in showing you're a leader in your industry.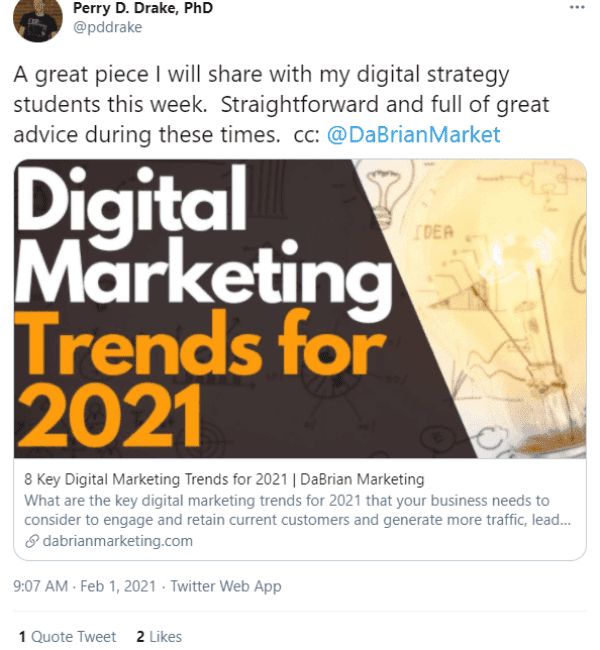 Since it was shared by their peers, those influencers are more likely to share it on their site or blog. It also shows that you care when your audience engages with you and you care about building relationships with them. 
4. Your Social Audience Helps Shape Your Content
SEO and content marketing are not all about just search trends, volume, and other metrics. It also has to do with actually producing content your audience gives cares about. Sure, you could look at historical data to see what has traditionally performed well (or not so well) to develop your content. But, that will always leave you one step behind if this is the ONLY method you use. 
You need NEW content, too.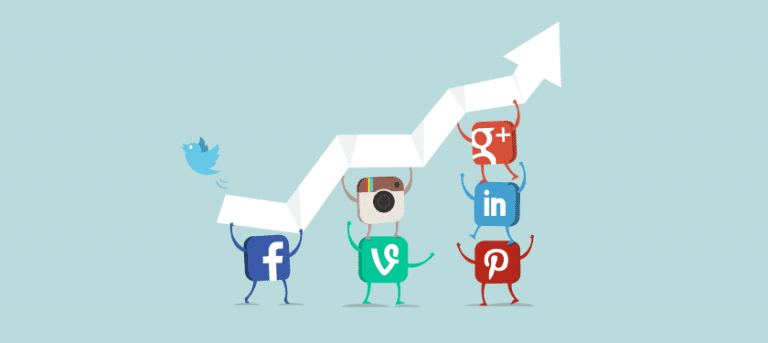 With social media, you should stay up with the latest trends, events, and news, as well as monitor the type of content your audience is interested in. On top of this, you can evaluate what's working or not working for your competitors. This information will allow you to craft content that is timely, meaningful, and strategic to your users. In doing so, you'll see engagement increase (comments, sharing, and contact submissions) and you'll appear higher in the rankings for producing fresh, relevant content.
One simple way to view trending topics is to see what's trending on Twitter.
5. Get Engaged To Your Community With Social & Local SEO 
Businesses, especially small ones, can not succeed without the support of their community. This applies to the digital landscape, as well. In terms of SEO, the impact of your local area has never been greater. Major search engine's – such as Google's and Bing's – algorithms have shifted towards more personalized results with a heavy emphasis on locality.
Aside from maintaining an accurate profile within the local listings, it is also extremely beneficial for your business to produce both localized content and social posts. Create blogs and other web pages that speak directly to your local audience. Then, utilize social media to disseminate it to local businesses and influencers (news reporters, bloggers, or those active in the community). This will increase not only the local discussion around your business but also the likelihood of earning local links. All of these signals will improve your ranking position within the organic search results.
The image below shows a blog post from a staple restaurant in West Reading, Pa, Say Cheese!, and a fellow DaBrian Marketing client. The blog highlights the restaurant, it's history, future plans, and the announcement of their new website.
Tying Your Efforts Together
Your SEO and social media efforts need to be tied together to maximize efficiency. But, why stop there? For your digital marketing plan to be truly effective, you need to make sure all of your efforts are tied together. This includes your PPC (Pay per Click) advertising, web design, content marketing, email marketing, strategy, and your overall digital brand, in addition to SEO and social media. Your mindset needs to shift from different departments working independently to your business functioning collectively as a team, allowing to not let anything fall through the cracks.
Need someone to align your SEO and social efforts to help generate leads?