NAI Keystone Commercial & Industrial, LLC located at 875 Berkshire Blvd Suite 102, Wyomissing, PA sought out help and was pointed in our direction by our close friends over at CoreRDG. NAI Keystone had a vision of redesigning their website to have a unique, fresh and inspiring look. The intention was to attract the attention of any onlookers to navigate through the history of NAI Keystone, fellow employees, and Properties. Working with them these past three months was a journey and experience that we would not forget anytime soon.
DaBrian Marketing Group happily accepted the project when we heard the approach NAI Keystone intended to take by Kaitlyn Tothero, Marketing Director at NAI Keystone. Kaitlyn shared the need of wanting to be unique compared to other NAI Keystone websites at different locations. To accomplish this goal, the idea of using a video to share their History, Services, Properties, Employees, and Testimonial. There was also a secondary goal for the video, to show the beauty of Reading PA from a different perspective.

Throughout the project, we created the following pages; About us, Meet The Team, Blog, and Contact Us. DaBrian Marketing implemented updated images and videos on the NAI Keystone website. The site was giving access to enhance the functionality of interior pages and direct control of page elements such as titles, meta descriptions, and alt tags. These changes help to keep the website up to date, making it easier to upload images in the future.
At DaBrian Marketing Group, we always move forward intending to achieve our deliverables. NAI Keystone communication with us was excellent throughout the project and helped toward the accomplishment of getting their website live well within the timeline and budget.  "Our time working with NAI Keystone was amazing. It was a great pleasure working with Kaitlin. Constant communication throughout the project kept us on pace to meet our deadlines which kept us focused on the clients creative and marketing goals." – Mark A. Mapp, Creative Director at DaBrian Marketing Group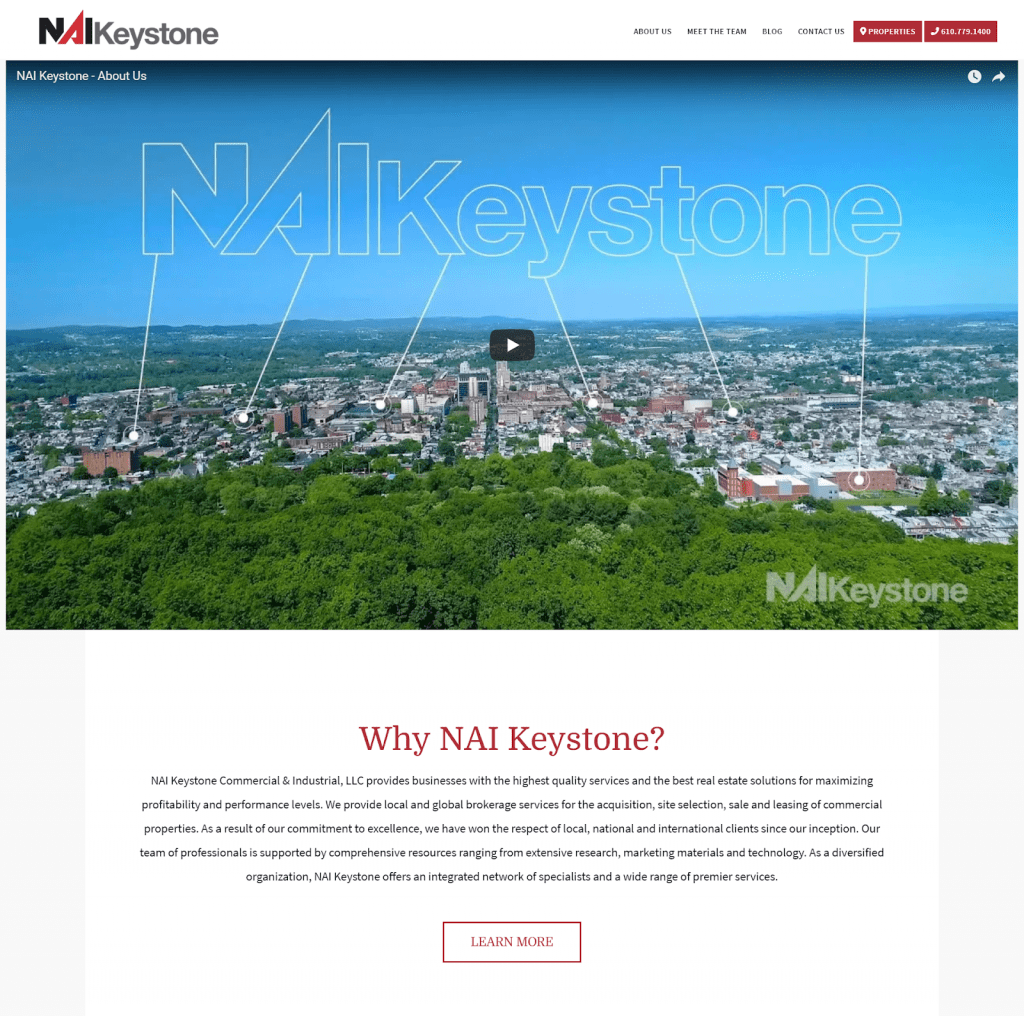 About NAI Keystone Commercial & Industrial, LLC
NAI Keystone Commercial & Industrial, LLC provides businesses with the highest quality services and the best real estate solutions for maximizing profitability and performance levels. We provide local and global brokerage services for the acquisition, site selection, sales and leasing of commercial properties. As a result of our commitment to excellence, we have won the respect of local, national and international clients since our inception. Our team of professionals is supported by comprehensive resources ranging from extensive research, marketing materials and technology. As a diversified organization, NAI Keystone offers an integrated network of specialists and a wide range of premier services.