The Rubright Group located in Shoemakersville, Berks County PA contacted DaBrian Marketing Group for their new web design project. The goal of the web design project was to increase awareness of Rubright Construction and Self Storage as well as rebar fabrication in Shoemakersville and Berks County PA. The increase in visitors overall would lead to more business opportunities.
Rubright Construction maintains a full time workforce, experienced and knowledgeable in various fields. Rubright Self Storage is located at the rear of our construction business 64 E Bellevue Ave. Shoemakersville, PA 19555. Their units are safely secured and neatly maintained to provide 24 hour service. The units are designed to handle adverse weather conditions and are available in multiple sizes. ReCon-Fab is a company for reinforcing bar grade 60 and custom fabrication that consists of bending and cutting. Alongside their services through ReCon, they provide deliveries throughout Berks County and Eastern Pennsylvania within a 48 hour period.
With The Rubright Group's diverse business portfolio, DaBrian Marketing Group was able to incorporate all of the business entities into one website. The website now showcases their businesses, provides a photo gallery of their most recent projects, and a map for directions to their facility.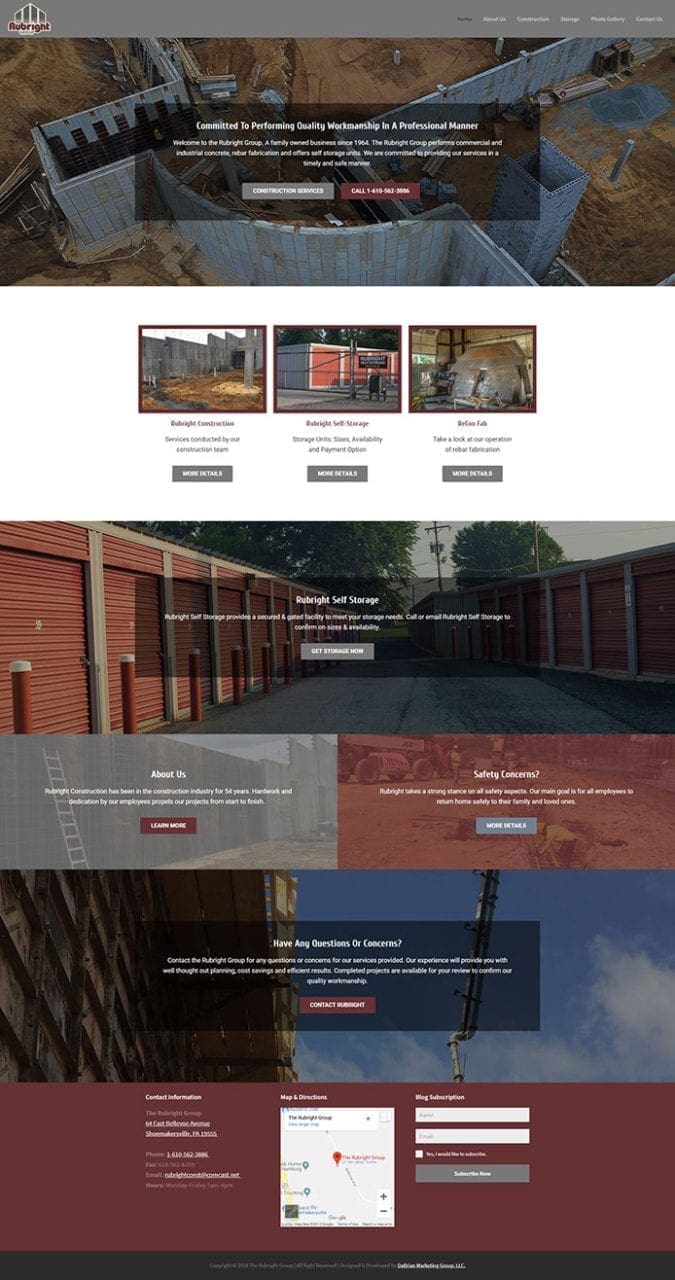 The Rubright Group located in Berks County, PA performs commercial and industrial concrete, rebar fabrication and offers self storage units. We are committed to providing our services in a timely and safe manner.Rubright Construction was started in 1969 by George R. Rubright. George started most projects by trust and a firm handshake. Residential remodeling, home building and miscellaneous site grading was the core of his business. In the early 1980's George Rubright and his two sons, Jeff and Ted evolved the business into commercial and industrial projects specializing in concrete and site excavations. Today, Rubright performs all aspects of poured and placed concrete, along with a rebar fabrication division.