Keystone Maintenance Services, or KMS, is another great example of some of the work we do here at DaBrian Marketing Group. KMS is a company based in Mohnton, PA that specializes in supplying and servicing cranes, hoists and other material handling equipment. They provide other services as well, such as welding, concrete, and electrical work.
The majority of the work we did was in the site redesign. KMS wanted to make changes to their brand identity, and they came to us for guidance. Our Creative Director Mark Mapp was able to come up with a brand new logo and color scheme and then translated these elements into a new and improved look & feel on their website. Updated images were also added and then optimized, so as to not slow the site down. The result was a cleaner, more modern looking site. We also aimed to improve functionality and usability with the redesign, improving the architecture and adding more Calls to Action and homepage links. Our goal was to make it easier and more intuitive for users to contact Keystone for questions or a quote. At the end of the day, one of the most important jobs of a website is to generate leads, so this was an important aspect of giving our client a good finished product.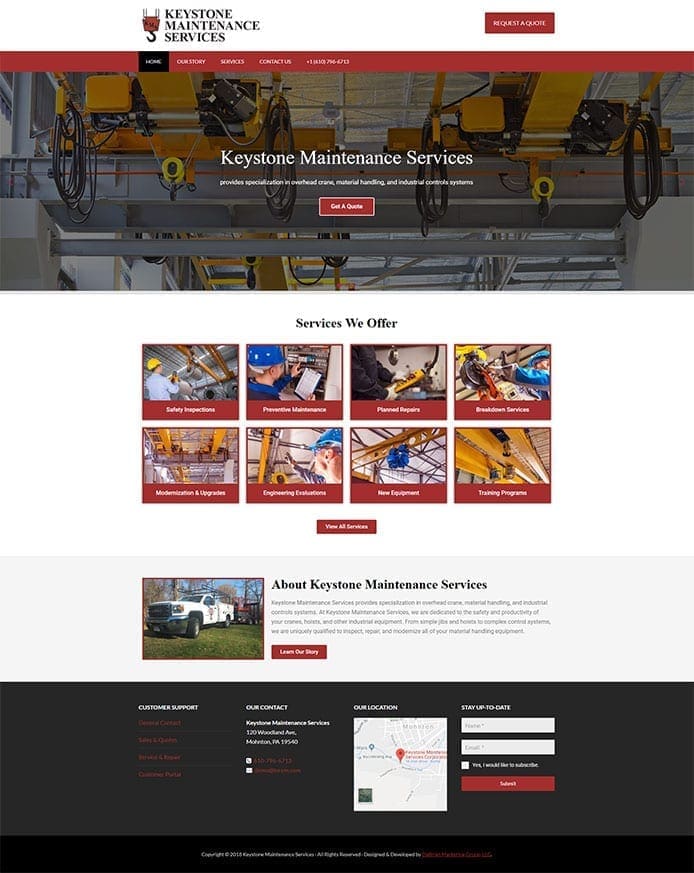 Another item we were tasked to do for Keystone was copywriting for their site — specifically for the New Equipment and Expanded Services sections. Admittedly, I didn't know much about the crane and material handling industry when I was first tasked to write these pages. I looked across the web for companies within a similar sector and read their on-page copy to get a sense of the terminology used within the industry, as well as what users want to know about all the different types of cranes serviced and supplied by KMS. Once I felt comfortable writing about the subject matter, I started putting pen to paper (figuratively.) I tried to adopt a casual but informative style when writing the copy and made sure to hit on Keystone's key differentiators — namely their broad service area and devotion to 24-hour breakdown support.
About Keystone Maintenance Systems
Keystone Maintenance Services Corporation is an industrial maintenance service company founded in 2001 and located in Mohnton, Pennsylvania.
Keystone Maintenance Services provides specialization in overhead crane, material handling, and industrial controls systems. At Keystone Maintenance Services, they are dedicated to the safety and productivity of your cranes, hoists, and other industrial equipment. From simple jibs and hoists to complex control systems, they are uniquely qualified to inspect, repair, and modernize all of your material handling equipment. Additionally, Keystone Maintenance Services has expanded capabilities over other "crane service" companies. Keystone Maintenance Services can provide additional services that range from rigging, equipment installation and relocation, fabrication and millwright services, as well as researching and supplying required spare/replacement parts.