As online search continues to increase, so does the importance of Search Engine Optimization (SEO). Almost every business (big and small) in America today has some sort of online presence. Here are 6 SEO tips for businesses every owner should follow.
1. Have Web Analytics in Place
Business owners are always looking for ways to increase their overall success. Well, how can you improve something you don't measure? You can't. However, by using analytics business owners can see everything they need to know about their business. It allows you to see the users visiting your site and their actions. It also shows you which pages are popular, which aren't, and potential errors with certain pages. In analytics, you can define your business goals and track to see if you accomplish them. These goals could be a user filling out a contact/registration form or even making a purchase. Having analytics set up on a business' site is absolutely essential for a successful SEO campaign.
2. Take Advantage of the Tools the Search Engines Give You
Many business owners share the misconception that online diagnostic tools are too expensive. This is not the case. In fact, Google and Bing offer these tools for free. By using Google Search Console and Bing Webmaster Tools, a business owner is given the ability to see how search engines view his/her website; seeing which pages are eligible to show as results when someone does an online search.These tools also show search traffic, technical errors, and will offer tips on how to improve your online presence.
3. Start a Blog and Join One Too
An effective way to improve your SEO is to create a blog. Search engines love fresh content. Regularly updating your blog will improve the reach and visibility of your site. With that being said, why should you do all the talking? Join in on other industry related blogs and discussions. This not only allows you to see what is being said about your business/industry, but it also allows you to establish yourself as an expert in the field. The more user engagement, the better. If users feel that there is a relationship between them and the business owner, they are far more likely to visit your site, recommend you to others, or even better, purchase your product or service.
4. Earn Links and Build Relationships
Link earning and building are extremely important aspects of SEO. Obtaining links from other reputable sites tells search engines that you too are reputable and most likely have something important to offer to users. While this task may sound simple enough, it can be a difficult and lengthy process. Start by acquiring foundational links from trusted directories such as DMOZ. From there, try to earn links for trusted sites in your area, such as the Chamber of Commerce or a local business directory. An effective way to receive these links are by releasing newsworthy press releases. This also helps your business develop a relationship with news stations and the local community.
As you continue to gain high-quality links, your domain authority will increase. At this point, start looking for link opportunities on authoritative sites within your industry. For example, a link from MOZ would be huge for a digital marketing agency such as ourselves.
5. Dominate the Local Market
Local SEO is becoming more relevant and important than ever before. It is absolutely crucial that a business performs well locally. To do so, there a few steps you have to cover. First, make sure the name of your business, address, and phone number are prominent on each page of your site and consistent. The next is that you need to be listed and verified on local listings (Google My Business, Bing Places, and Yahoo Local). These listings will prove the validity of your business to users and search engines. The last step is to take advantage of your local directories. Being listed in your local business directory will help you gain more visibility which in turn should drive relevant traffic to your site.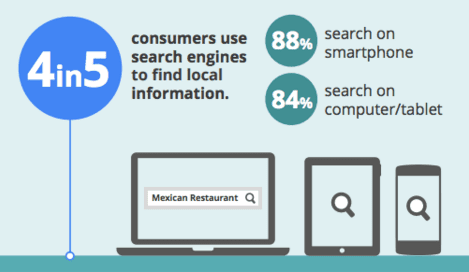 6. Include and Update a Sitemap
What's the point of consistently adding content if search engines can't find it? Sitemaps are a way to tell search engines about pages on your site they might not otherwise discover. In its simplest terms, an XML Sitemap is a list of the pages on your website. Creating and submitting a Sitemap helps make sure that search engines know about all the pages on your site, including URLs that may not be discoverable by their normal crawling process.
If creating a sitemap sounds far too technical for you, don't panic. Simply go to a sitemap generator and it'll take care of all the work for you. Once created, submit your sitemap to Google and also submit it to Bing.
Having an effective SEO campaign for a business is absolutely crucial for their success in today's digital world. By following the 6 SEO tips for businesses listed above, your business will gain visibility, customers, and a leg up on your competition.
For more tips and information regarding Search Engine Optimization, Contact Us today!
By: David McDowell