DaBrian Marketing Group is an official Yelp Advertising Partner. Yelp launched this partnership program to offer unique benefits to its participating advertising agencies. Yelp was already a part of our local business listing management. We will take advantage of new opportunities to help our clients connect with local customers by providing local ads and upgrading client profiles. It's another way that we will continue to help our clients achieve their goals and add value to their marketing campaigns.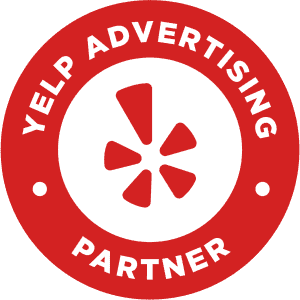 Yelp is a business directory service and crowd-sourced review forum. Yelp had a monthly average of 37 million unique visitors who visited Yelp via the Yelp app and 77 million unique visitors who visited Yelp via mobile web in Q2 2019.*  You can use Yelp to find events, lists and to talk with other people.

of searches on Yelp were done on a mobile device.

of new Yelp reviews were generated on mobile devices last quarter.
What is a Yelp Advertising Partner?
Yelp Advertising Partners help clients reach locally targeted consumers who are ready to purchase. Yelp is an ideal advertising platform for businesses such as restaurants, home service businesses, auto services, retailers and a lot more. Advertising opportunities include local search ads on Yelp, business profiles, and managing your business online information.
How Can Yelp Ads Help Your Business?
Yelp ads can help you increase more traffic, get more leads, and sell more products or services with cost per click advertising similar to Google Ads or enhance your business profiles. Enhanced profiles will help you to stand out from other businesses in your category by adding a call to action buttons, photo slideshows, and more to your page. 
Yelp is one of the most visited websites for desktop and mobile users. It's a top review site for finding local businesses. Users have contributed over 100 million reviews of almost every type of local business, from restaurants, boutiques, and salons to dentists, mechanics, plumbers and more.
To learn more about Yelp Ads, contact us or schedule an appointment for a free consultation.