Whether you have just started down the road to hiring a marketing agency, or you have already built a trusted relationship, understand your rights and be wary of ways a great advertising agency relationship can go bad without agency transparency.
Way back in 2014, Google updated their Third-Party Policy. The Policy, speaking directly to advertising agencies in the role of management, notes Google's strict guidelines for cost reporting and management fees. Up until this point, it was generally the client's or customer's duty to research and to understand exactly for what services an ad agency was charging them as well as the cost of those services . Some agencies would invoice clients for Pay Per Click (PPC) Advertising without noting the difference from their actual PPC spend and the fees that are simply associated with managing the PPC account. The Third-Party Policy is a great starting point for all the questions that one might ask of their soon-to-be advertising agency before to signing any contracts.
As an agency, we create login information for many clients for many different purposes. We take on the role of password gatekeeper as well as security answer holder. Often, the login information that an agency creates is not shared with the respective client. Sometimes, this is purposeful; but, at other times it may simply be a part of the established client-relations process. Now, Google's Third-Party Policy notes that a client's Google Adwords Customer ID must be shared with that client. Search Engine Land, putting it best said, "and this should be obvious, give your clients their customer IDs when they ask for them." Other login information should be openly shared, as well. Whether we have created a subscription account to industry insights, or we are managing your Customer Relationship Management (CRM) platform – it is your data, your right.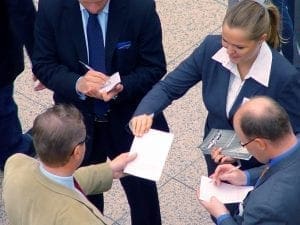 Whether it be a tumultuous relationship needing to end or a pleasant bond that has run its course – breaking up with an agency is hard to do. Be prepared and search the language of your agreement for payment, ownership, and timeliness clauses. Read the blog post entitled, "5 Signs It's Time to Fire Your Marketing Agency", work up the courage, and write out your frustrations. Even if you are not ready to depart from your marketing agency, understand your power and use it. In many cases, a website can be "lost" if ownership is not clearly defined or access is not granted. A business owner can lose a tiresome and costly website in the blink of an eye if website hosting is ever disrupted. The Site Wizard wrote a great blog post entitled, "How to Rescue Your Website from the Clutches of a Bad Web Designer or Bad Web Host" which sends a warning to all those that host their website elsewhere.
Agency Transparency, Know your Rights
Don't leave your data, your accounts, or your wallet vulnerable to an uncomfortable demise. Communicate your expectations with your marketing agency and expect transparency, in return.
For more information about our agency's transparency guidelines, contact us or leave us a comment below!