Visitors to Grove Dental Group's new website benefit from improved usability as well as enhanced accessibility to research and register for dental services.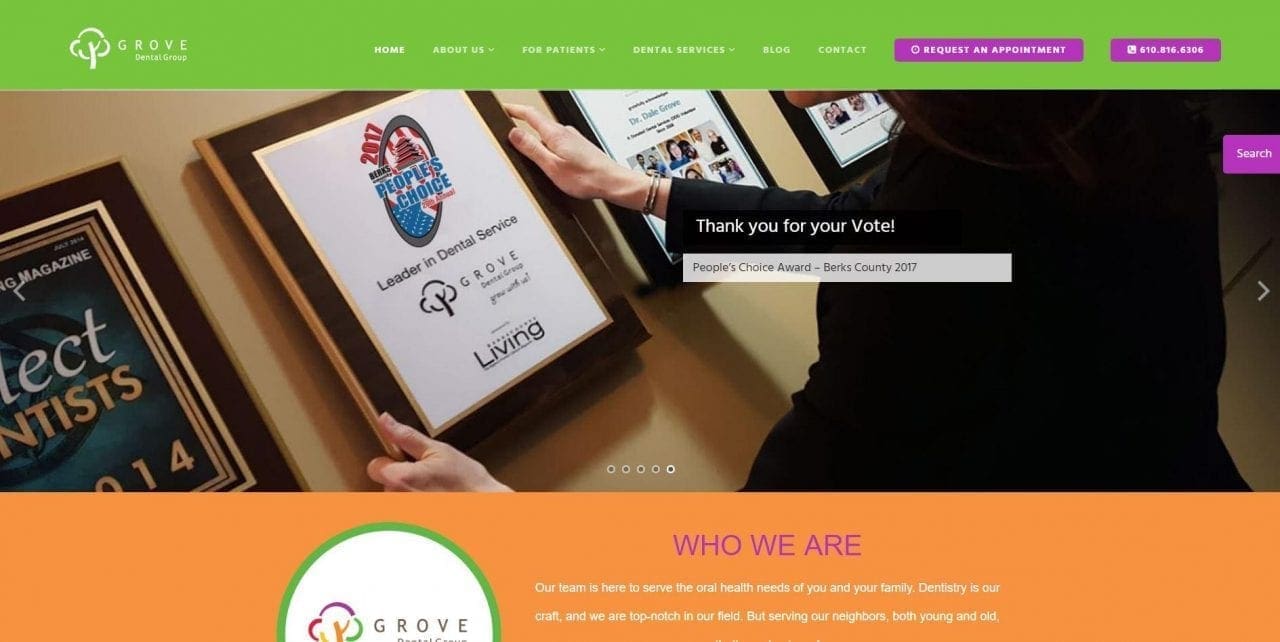 March, 2017 (Reading, PA) – In coordination with managing their digital marketing to reach new patients, DaBrian Marketing Group noticed that Grove Dental Group's website needed a new layout and structure to rank higher on search engines and improve usability.
The website's new design and architecture improves both the business' visibility on search engines and allows customers to easily learn about Grove Dental's services. This involved organizing the content of Grove Dental's former website into an updated structure. This enhanced the indexability and significantly improved the value of Grove Dental's content to search engines. Overall, users on major search engines, such as Google and Bing, are now more likely to find and visit Grove Dental's website.
Visitors to Grove Dental's website also experience an increase in speed when they navigate through pages. The new, simplified design decreases the time that is required for each page to fully load. After a visitor finds the service in which he or she is interested, a newly created registration form allows that person to immediately contact Grove Dental's staff and schedule appointments. DaBrian Marketing Group placed these registration forms on the new website to expedite people's next step from learning about Grove Dental to actually requesting their services.
Megan Link, Director of Projects, Marketing, & Financial Operations at Grove Dental expresses excitement over the improved capabilities of the website and DaBrian Marketing Group's services:
"Partnering with DaBrian was a no brainer for us and we couldn't be more pleased with the service they provide. DaBrian is like your best friend, always has your back and looks out for your best interest. They are really an extension of our team, and the transition was smooth and effortless on our part. Our new website is living proof of my statement. They knew when to ask questions about what we wanted, but really I had very little to do with the new website other than giving the final a-ok. I recommend DaBrian to any business looking to change their online appearance."
Grove Dental's precise branded guidelines made the redesign of their website a simple project without complications. Grove Dental concretely identifies its brand – from the personnel's attitude and level of patient-engagement to the overall mission of the company. This allowed DaBrian Marketing Group to create a layout and structure that effectively communicates Grove Dental's digital brand to potential patients. This redesigned website complements the organic (search engine optimization or SEO) and paid (pay per click or PPC) search engine marketing efforts as well as the social media marketing efforts that DaBrian Marketing Group continues to perform for Grove Dental.
Visit Grove Dental Group's website to experience the latest web design project by DaBrian Marketing Group.
About DaBrian Marketing Group, LLC
Founded in 2008, DaBrian Marketing Group, LLC is a full-service digital marketing agency, focused on providing original and strategic digital marketing solutions for businesses, that want to create digital awareness, increase return on investment (ROI), and identify insights that not only will help achieve goals but will also help to increase your business's efficiencies. DaBrian Marketing Group's services include email marketing, digital branding, search engine optimization (SEO), Pay Per Click (PPC) Advertising, web design, web analytics, social media marketing, and more. Company headquarters is centrally located at 500 Penn Street, Suite 201, Reading, Pennsylvania 19602. For more information about DaBrian Marketing Group, visit dabrianmarketing.com or call 610.743.5602.