What is Digital Marketing?
For years, traditional marketing was the primary form of communication between businesses and their potential customers. It helped these businesses to create brand awareness and get the word out to potential customers about their product or service. Although traditional marketing continues to play a huge role in the business world, digital marketing has become just as, if not more, important. As the use of the Internet continues to soar, so does digital marketing. For the most part, digital marketing provides an inexpensive alternative to traditional marketing. When it comes down to it, business professionals are looking for "instant gratification," two words that are not necessarily associated with the traditional side of the house. Digital Marketing gives businesses better insights into what marketing tactics are working and if those investments are contributing to ROI.
How Can Digital Isolation Affect Your Business?
When it comes to engaging in digital marketing, decision makers too often think that a single service is going to drastically impact their business and instantly change the competitive landscape. The fact of the matter is, looking at digital marketing in its entirety and developing well-thought-out digital strategies are what lead to success. When you isolate digital marketing, it can open the door to reckless budget spending on campaigns with no way of accurately measuring performance. Failing to see digital as a whole can greatly reduce your chances of reaching your target audience and leave you looking up at your competitors.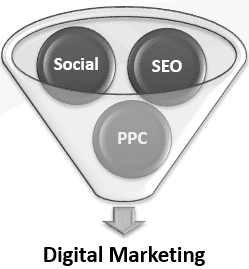 Putting the Pieces Together
Digital marketing can be very puzzling to some. It's important to realize that digital marketing is not a solo act; it is performed in unison. Only when you begin to look at digital marketing as whole instead of one element or service, will you begin to see better results. For example, while social media is a great way to increase brand awareness and manage brand reputation, it does not often directly impact conversions and sales. However, increased brand awareness can help drive more site traffic and improve search engine optimization–related metrics. Ultimately, the more site traffic you gain, the more likely you are to generate conversions and see increased ROI.
As we move throughout the 21st century and beyond, digital marketing will continue growing and become a vital step toward a business reaching its organizational goals and objectives. Building and developing long-term relationships and strategies is what digital marketing is all about. The sooner you begin to realize that digital marketing is not just as simple as a one off service, the better off they will be.
Having trouble seeing the bigger picture? Share your thoughts or questions in the comments below or give us a call at 610-743-5602!