Rackspace eCommerce Platform
A new contender has joined the eCommerce competition. Rackspace is a UK-based web hosting company that boasts some premium services, but they have been known to be on the expensive side. Compare them to GoDaddy, the widely popular (and often less pricy) eCommerce hosting company, and it might seem like the decision between these two is easy. Let's see how these two eCommerce platforms stack up against one another.
Rackspace eCommerce Hosting
Some advantages of Rackspace include…
They have nice diagnostic tools like page load speed checker and downtime cost calculator. Those alone can make a huge difference for webmasters when it comes to troubleshooting issues on an eCommerce site.
They have reliable hosting and rarely experience outages.
If your eCommerce site receives a sudden influx of traffic, Rackspace can easily manage the bandwidth.
Rackspace is well-known for their excellent security. We have yet to see them make a list of
"hacked hosting companies."
Rackspace offers multiple eCommerce software options, including the ever-popular Oracle and Magento.
In our team's experience, Rackspace has had excellent customer and technical support.
Rackspace has 24-hour support, so there's no need to worry if you ever have an issue.
The disadvantages…
The price. Their lowest eCommerce package is $300 a month.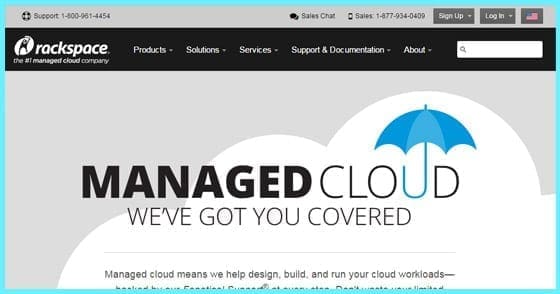 Some advantages are…
Pricing for GoDaddy is much less expensive than Rackspace–you can generally get hosting packages in the $5-$10 a month range.
In a span of 5 years, they have been reported to only of been down for 6 total hours. That's quite impressive, even though they have received more media coverage than some smaller hosting companies.
There are several various add-ons you can implement on your eCommerce site (though most of them require you to purchase access to them). The add-ons differ from Rackspace; Godaddy's add-ons are more along the lines of email, SSL, domains, etc.
They have 24/7 customer support.
The disadvantages…
Even though they have round-the-clock support, we've noticed that we often get transferred through several departments before we get to someone who can help solve our issue(s).
Because they're so popular, they're usually targeted for malicious attacks. So even though they claim to have excellent security, they're not completely protected from hackers.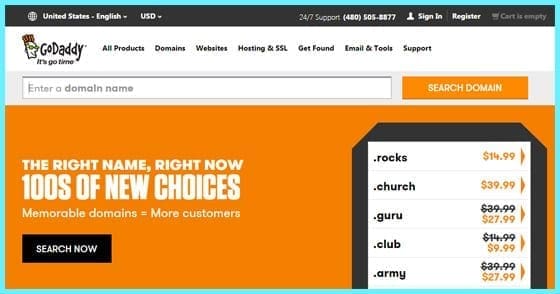 If you are a smaller eCommerce company that does not max out its bandwidth and uses little space on your server, then GoDaddy may be your best bet. If you have a larger or resource-intensive website and choose GoDaddy, you may find yourself dealing with customer service a lot. To save yourself that time and aggravation, you may wish to check out Rackspace and determine if the higher cost is the most effective business decision.
Have a question about these two eCommerce platforms? Leave us a comment below!