Kevin Systrom has certainly gotten where he wanted to be in four short years (or 104 in social media years) since founding Instagram. The domination of visual content platforms has forced the re-visitation of many a social media strategy for marketers. Now the only question is: what's Kevin got up his Prada-conceived sleeve?
It was the biggest social headline of 2014: "It's Official: Instagram Is Bigger Than Twitter". We all read it, we all did a double-take, and we all had the same reaction: "Wow – well, actually… I guess I could see it". Of course we could all see it. Instant user gratification (following Twitter's recipe) mixed with virtually 100% visual presentation (with maybe 1% left for the hashtag game) – Instagram couldn't have any more #swag if they tried.
But (unfortunately for the English language) swag WORKS in the social space, and it works well. Appealing to the masses is the name of the game, and Instagram has a stiff leg up on the competition. In the past nine months alone, Instagram has doubled its monthly active users to 300 million. That's right – Instagram has gained nearly 150 million active users since Samsung launched current flagship Galaxy S5 in the U.S. "Really?"…yeah, really.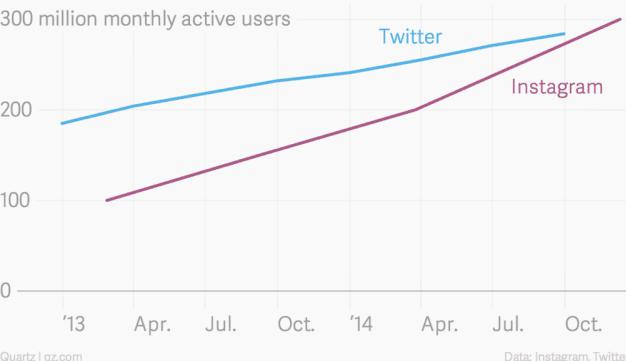 Will Instagram Go Public?
C'mon, everybody who's ANYBODY is doing it. Facebook in 2012, Twitter in 2013, even Snapchat and Pinterest are joining the party with expected IPO's in the coming year. It certainly makes sense – as going public has hardly put holes in the pockets of social's biggest players to date. It's only a matter of time until that conversation surfaces. The question is: what cash-flowing, business-driving, investor-enticing feature do these platforms have (yes, even Snapchat) that Instagram is still lacking? Advertising. Should Instagram decide to test the public waters in 2015, we can most definitely expect to see a more robust (and accepting) advertising platform. Speaking of which…
Okay, fine, Instagram has "advertising" – that is, if you're a top-1% advertiser who's willing to spend egregious amounts of time and resources working with Instagram to meet the toughest ad regulations in the industry. But for the rest of our brands, Instagram Ads are about as useful as the local Classifieds.
Instagram Ads don't appear to be getting any more accessible any time soon, either. According to Instagram's Director/Market Operations, Jim Squires, the platform is being "very methodical and deliberate" about the process. It's a benchmarking phase. Their sloth-friendly pace is most likely a reactive approach due to parent company Facebook's regular user meltdowns that come with platform alterations. Bottom line: don't expect your average client's brand to be advertising on Instagram anytime soon.
In the meantime, Instagram has yet to give us any diminishing algorithms to contend with, so paid advertising isn't a necessary evil to maintain our reach and visibility (italics means it's emphasized, people). As long as creativity is emphasized, a proper advertisement is as simple as the tap of a thumb.
Instagram Analytics (or, lack thereof)
We've been begging Instagram for an analytics platform for a while now. Sure, we have access to services like Iconosquare or TOTEMS, and even the big boys like Hootsuite pretend to have what we need from a reporting perspective. But metrics like "engagement rate" lack the context of what we need to prove that our content is really resonating with the end user.
Instagram has been buzzing about a new "time spent" metric for a while now. In fact, in a recent interview with Recode, it was announced that the average mobile user spends 21 minutes per day in the application. If Instagram is really as art-sy as they claim to be, they should know of this metric's importance to us. Think of a fine art museum. How can you tell what pieces are TRULY appealing to an audience? They stop and stare at it for a while. Soon, a crowd gathers, and before you know it you've got what social media is all about: attention. When will Instagram actually grant us access to a "time spent" metric? Who knows. For now, "engagement rate" and a properly tagged link in your bio are going to have to do.
Here's the thing, though – for everything Instagram is lacking, they make up for ten-fold. They still have the highest user "engagement" (if you're into that sort of thing), they still have more active monthly users than Twitter, and they still maintain among the highest growth rates of any platform out there. Seriously, Instagram could give us all or none of the things in this report, and it wouldn't make a damn bit of difference. We're all still suckers for swag.
Have any predictions of your own about the Insta-future? Let us know in the comments below!