The scope of technology available to the average social media marketing pro is nothing short of phenomenally overwhelming. Solutions that publish, measure, schedule, amplify, and optimize are (slightly more than) a dime a dozen, so the big question becomes, "How do I see through the enticing sheen of snake oil and make the right decision for my business?"
Here are the steps you need to take to choose the best social media management platform.
Step 1: Know What You're Getting (and What You Can't Have)
Consumer privacy will always be a hot topic in the social sphere. As end users unknowingly submit information to social networking companies, only to erupt in utter backlash after the story is covered by a major news outlet, marketers will always have to understand two things. 1) Social media user data is dictated by the terms and conditions set out by the individual platforms, and 2) There's no guarantee that the information you're collecting will always be available.
As guidelines around content ownership and use of information/activity for advertising change, so too will the capabilities of the social media management platforms you seek. Armed with this understanding, you'll be able to sort through the sales pitches and product demos that mislead and misinform. As difficult as it is to believe, solutions providers aren't beyond promising that their tool will satisfy your every need (even if that's not exactly true).
Speaking of product demos…
Step 2: Always Take a Test Drive
The details of a solution's capabilities are often muddled behind the pricing plans and account levels that are available. For example, a social management platform that promises connections to Facebook, Twitter, YouTube, LinkedIn, Google+ may neglect to inform you that their most popular plan only allows you to connect 5 accounts. Manage a Facebook Company Page, LinkedIn Company Page, and 4 personal profiles? These will count individually toward your network limit. And you guessed it, adding more functionality requires a more expensive plan.
In order to remedy this, always give products a test run. If you can get a representative to walk you through individual features (from both the sales and programming department), even better. Allow them to show you how the system works, and take notes as you go. When the demo winds down, discuss the possibility of getting a free trial. If it's not spelled out on the company's website, the salesperson will almost always grant one.
This way, you'll be able to compare solutions based upon the criteria you care about (usability, reporting, integrations, etc.) without getting caught up in bells and whistles.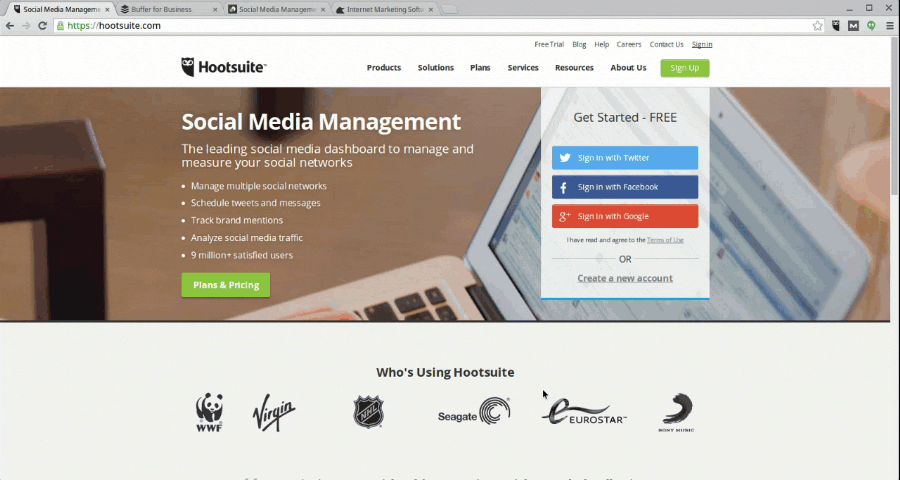 Step 3: Get the Support You Need
At some point during your use of the solution, you'll run into an issue. Whether it's an issue with connectivity, an update, or a more technical problem, you'll be engaging with the platform's support team. To reduce your headache and get your issues resolved in as timely a manner as possible, it's important to know the "chain of command" when it comes to different kinds of issues.
If you're given an account representative, it's likely that they'll be your first line of defense for major issues related to the platform (adding accounts, billing, etc.). Oftentimes if you have a sudden issue, a virtual help desk or virtual live chat will be your best bet. And if all else fails and you're more curious about a new feature or add-on software, community-driven support forums will provide the best solution. No matter the social media management platform, knowing where to go when a problem arises should be a top priority. This is especially true if you manage customer accounts or require Enterprise-level operations.
As the social media landscape becomes mission-critical for businesses, more and more solutions will be developed touting an effortless management experience. Your final decision will be based on countless factors specific to your business situation, but a keen sense of the platforms, the teams managing them, and an understanding of what you're really paying for will go a long way.
What's your go-to tip when choosing a social media management platform? Let us know in the comments!