CallRail is a tracking and analytics for phone calls and web forms. Optimize your marketing and increase the ROI on your PPC, SEO, and offline ad campaigns. It can help to reduce your business response time and increase your closing rates. You can event get alerts by phone, text, or email so your sales reps can contact potential customers quickly.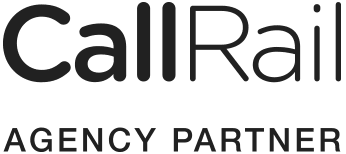 Our agency uses call tracking to help determine how callers are finding your business. We know your customers are researching your business before they make a phone call. Call tracking gives us the ability to see what actions they took before they picked up the phone or fill out a form. We use this information to get a holistic picture of our work, optimize our strategies, and help grow your business.
Clients benefit from the ability to fully engage with their CallRail account or as part of our digital marketing. There's also a ton of features clients can use for their business. Call tracking numbers and caller data are always owned by the client to help maintain full visibility on campaign and customer service performance.
Why Work With a CallRail Partner?
Over 700 agencies and counting are members of CallRail's Agency Partner Program. As a partner, we get exclusive content, specialized sales support, and marketing resources to help agencies expand the business and retain more clients. By working with a CallRail agency partner, businesses can get access to additional support and resources too. 
DaBrian Marketing Group recently joined CallRail's Agency Partner Program to enhance our marketing efforts with call tracking and form tracking for our clients. CallRail is the top-rated call tracking platform and has helped over 100,000 businesses understand what makes their phone ring. CallRail also offers form submission tracking to help companies to see which channels, campaigns, ads, and keywords are generating form submissions.
"We're dedicated to helping our clients develop effective strategies and prove that the strategies achieve their business goals through analytics. CallRail is another addition to our toolset to help small and midsize businesses to get the information they need to make better decisions. We partner with our clients to turn data into revenue-generating action that move businesses forward! said Daniel Laws." 
Learn more about call tracking, form submission tracking, and how it can help grow your business here. Schedule an appointment for a free consultation, and let's see if we can help you get a better handle on your data!