A West Lawn, PA-based law firm has chosen DaBrian Marketing Group, LLC to lead in the development, implementation, and configuration of its website redesign project.
Reading, PA – February 13, 2013 – Miller Law Group, PLLC, a law firm located in West Lawn, PA, has chosen Reading, PA-based DaBrian Marketing Group, LLC, a full service digital marketing agency, to redesign the firm's website.
With experience spanning over 40 years, Miller Law Group, PLLC has built a reputation of providing clients with devoted, passionate, and professional legal service. Where other law firms may concentrate solely on a rapid legal resolution, Miller Law Group chose to differentiate itself by forming a personal connection with each person or business it represents. In support of the firm's mission, Miller Law Group's founding partners resolved to focus on marketing themselves in lieu of doing so with the overall brand.
"The Miller Law Group has grown tremendously over the last 13 years based upon our individual reputations as lawyers.  However, as we have now begun to expand the firm and offer the same personalized service throughout multiple attorneys, it became apparent that we needed to market our extremely reputable brand itself, to get across the message that we now have a full firm offering the same excellent services," said Larry Miller Jr., Esq., managing partner of Miller Law Group, PLLC.  "DaBrian Marketing Group has been instrumental in getting that message across, and we are excited to be working with this innovative company."
Through initial discussions, it became clear that the firm's brand must be able to stand on its own in order to make any progress from a marketing standpoint. With that in mind, DaBrian Marketing Group designed, developed, and programmed an all-new website built upon the flexible, open-source WordPress content management system. Throughout the process, DaBrian Marketing Group adhered not only to the most current web design best practices, but also considered Miller Law Group's digital brand identity.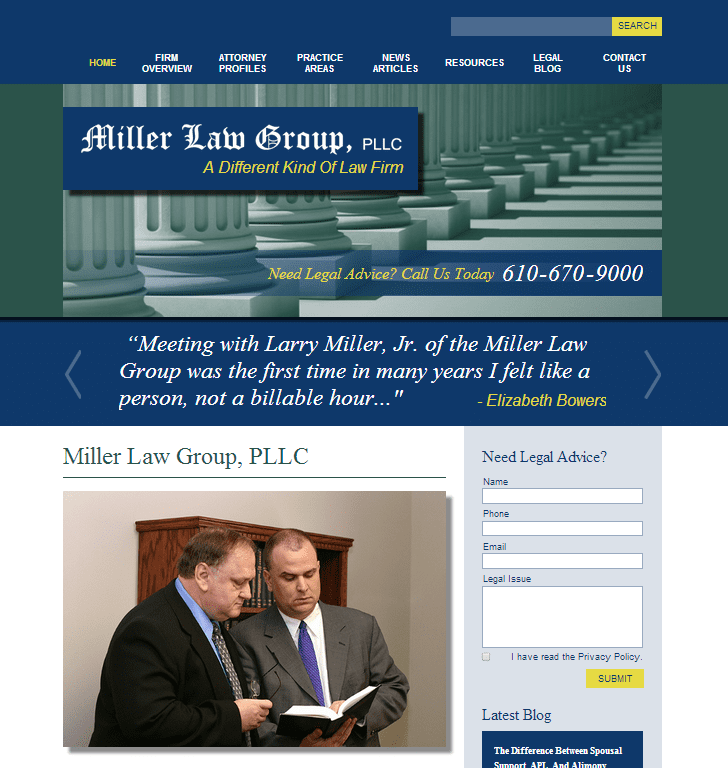 "Making the transition from primarily traditional marketing to digital often poses many challenges," said
Daniel Laws
, principal of DaBrian Marketing Group. "For Miller Law Group, we worked to create a website design and write page content that reinforced key branding components and, at the same time, supported the traditional marketing efforts that the firm conducted in the past."
The new Miller Law Group, PLLC website can be found at millerlawgroup.net. You can also check out our past design work in our new portfolio!