In my younger years as a millennial, there seemed to always be a new social media platform. From Xanga, to Myspace, and then finally to Facebook, none of them seemed to stick around and keep our attention. However, Facebook started a new trend – consistent updates and new features. Twitter, Snapchat, and Instagram also utilize this method to stay relevant and appealing to its users. These updates are critical to their survival.
As a millennial, these changes were simply… fun. But, now as a social media marketer, they are important to keep your audience's attention. Only half way through the year and we have seen many updates thus far! Here are a few of the latest.
Twitter - Live From The Twittersphere
Twitter has been having an identity crisis. Competing with the 'almighty' Facebook could leave it feeling lost and distressed. Last year, began its outcry to rebrand itself. They began to reiterate the fact the Twitter is for what's happening right now around the world. This led to the recent launch of the #SeeEverySide campaign. This will feature tweets from real people across the globe of every point and perspective. Check it out:
Who's your greatest of all time?#SeeEverySidehttps://t.co/x3g3fHVur1

— Twitter (@Twitter) June 26, 2017
In addition to its fight to stay top-of-mind, they've recently unleashed its 'refreshed' look. Some features were initially on Android last year, but after a lot of approval, it is now on IOS, too. The Twitter updates include:
Reorganized navigation
Articles open directly inside app, so a user stays logged in
Bolder headlines and refined typography.
New symbols – Many new users complained the old reply button looked like a 'back' or 'delete' button.
Live updates on likes, retweets, and replies proving Twitter is providing you real-time information
At the request of its users, major improvements have made the user experience great. Most people are pleased with how it looks. Next, Twitter needs to listen to the businesses, those connecting with their users, to provide each "Tweeter" an even better (local) experience.
Snapchat - "X" Marks The Spot on Snap Map
Snapchat, another "real-time" social media platform not only has consistent updates, but very unique ones at that. The latest update, which has been stirring up controversy, is their Snap Map. You can explore any event around the world and see exactly where your Snap-friends are at that moment. Snapchat wants you to see where your friends are or local events nearby, so you can join in on the fun, too! This worries parents, but the company assures anyone who does not want their location visible to friends, the user can turn on 'Ghost Mode' to disable the Snap Map.
A business update Snapchat has implemented is that every business now has its own geofilter. It shows the business name along with the city it's located in. This screams to me, "Brand Awareness!" and I like it, a lot.
Instagram - Helping Businesses Tell Their Story
Since being bought by Facebook, a lot of what you see on Facebook is also on Instagram which now makes it a major competitor. Instagram's recent updates focus more on businesses who use platform than their audiences. Instagram Stories now has business tagging and linking. From someone's story, a location can be found on a map or an external link can be clicked on. Instagram Story ads also have new objectives (not simply to build brand awareness). We can now track reach, video views, traffic to a website, conversions, and mobile app installs which will be great to track future performance of a particular ad.
Facebook - The Older You Are, The Wiser You Get
Lastly, my absolute favorite to manage – Facebook.
 As soon as I finish writing this, I am sure that Facebook will be soon releasing another new feature that we will have to get up-to-speed with (and personally, I am completely okay with that – hence why, I love social). If you currently are on Facebook or are running a Facebook account get ready for:
GIFs in comments – However, I can't wait until these are added to posts
More control over ad placement – The location of ads will change slightly
Soon-to-Come Cover Videos along with new text headlines – How fun is that?!
Target a particular post to a specific audience
Facebook Live updates coming soon – I highly recommend your business use Facebook Live
New Photo Album Features
Phew! This is a lot of to keep up with and this isn't even all of it. In a few years, Facebook will release an augmented reality component. There are many things this will allow a user to do. One in particular, you will be able to leave secret messages for friends a bar or restaurant. By using the app, the message will appear exactly where they left it on the table or bartop.
Overwhelmed? This is why hiring a social media marketer makes your life easier.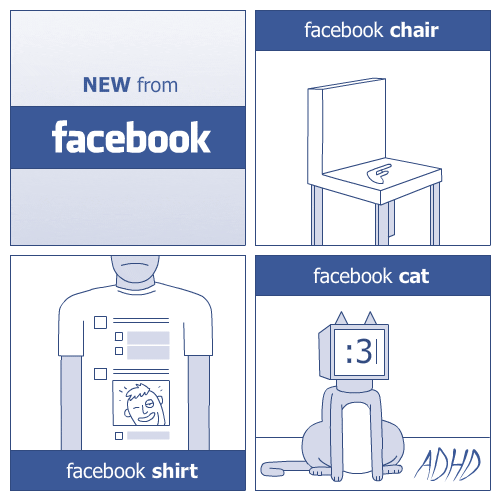 While it might be a pain to constantly update your applications (and clear more room on your IOS system), your business' social account must stay trendy and relevant. Your competitors may find new features to grow their business before you and you'll be forgotten just like Xanga and MySpace.
To learn more about social media marketing, ask a question below or check our social media accounts.