What is a Content Management System (CMS)?
A content management system (CMS) is an interface that a user can log into and allows publishing, editing and modifying content, organizing, and deleting as well as maintenance from a central interface. Such systems of content management provide procedures to manage workflow in a collaborative environment. It also allows you to do all of that in an environment that does not require you to know code. Open Source Content Management Systems account for roughly 50% of all websites that exist. There are lots of different kinds of Content Management Systems, but we will be talking about 2 different kinds that most, if not, all Content Management Systems fall under.
What is a Commercial Content Management System?
Commercial refers to being the opposite of free to use, meaning you must pay to use the software. For example, when you buy "Microsoft Office Word" you can't edit the code to modify it. Depending on how you look at it, it can be a good or bad thing. Using commercial software always means you must use their software and use what they provide and that nothing else is compatible with it other than what they offer. For example, if you wanted to integrate Salesforce with your site, chances are you wouldn't be able to because the features most likely would not be there.
What is Open Source Content Management System?
Open source refers to that anyone can use it for free. Most times you are able to literally open it up and edit their code and modify it as you like. Depending how extensive the changes are, you could release those changes as an attachment / plugin for free or paid. The big factor in using an open source Content Management System is that it has the backing of a community, and if you want something, chances are you can find a plugin / attachment that is already made and tested and that gives you the functionality that you want. Now that we know what they are, let's get down to what the differences actually are.
Advantages of Using Open Source CMS
Let's start off with the advantages of open source Content Management Systems (CMS). There are a lot of advantages, but we are going to focus on some of the main topics on why users usually choose to use open source. Since open source is free to use, that is probably the biggest reason anyone uses it. Another reason is that it is backed by a community of users that regularly provide support / updates / help on the software to achieve your end goal. Another advantage of open source it that anyone can make changes to it so that means you can customize it to fit your different needs making it more flexible.
A big reason why users usually use open source is because they have a lot of other software they want to work with their site. Security is usually a big concern and often a misconception that open source does not mean secure. If your site is in the right hands, than it can be made as secure as commercial software.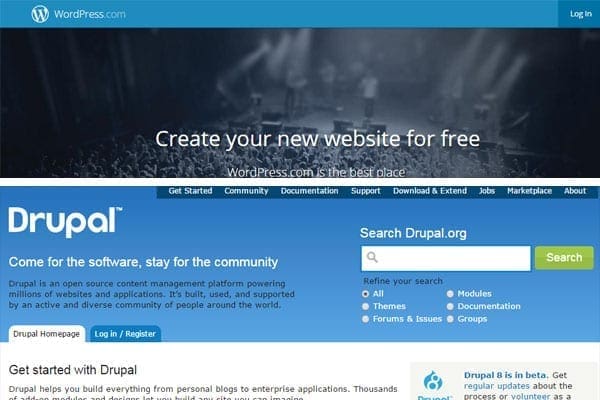 Advantages of Using Commercial CMS
The main reason a company wants to use commercial software is because they are worried about security, which is a good concern. Commercial definitely has you secure from the start. That is something you don't need to worry about. Since it is developed by only 1 company and not a community it often has a  clearer path of where the software is going and what it will include next. Since the software is developed by one company that means they have a definite line of support for you to reach.
That was a brief overview of the differences of commercial Content Management Systems (CMS) and open source Content Management Systems (CMS). Commercial Content Management System usually is the choice if you want assurance of security and support. If you are looking for a cheaper option, you can go with Open Source Content Management System (CMS). It can be as secure as a Commercial CMS, plenty of integrations, community support and best of all it's free!
Which Content Management System do you prefer to use if you use one? Fire in the comments below!