Nonprofits have several challenges in attracting individuals for their causes and converting those individuals into donors. To successfully promote and supply aid to those causes, nonprofits' marketing efforts need consistent branding, effective use of Customer Relationship Management (CRM), and efficient use of marketing budgets to grow donations.
Based upon the economic climate and the job market, getting millennials and other individuals to donate to your nonprofit will become increasingly challenging without the following tools.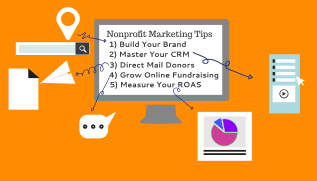 Build Your Nonprofit Brand
There are so many great nonprofits that it can be difficult for yours to stand out. Building and establishing your brand will help. Start by defining your nonprofit. Clearly state what makes your organization unique:
Why should people donate time and resources to your cause?
How do you emotionally or personally connect with your donors?
How do you directly affect your cause?
Answering these questions will build awareness and credibility for your valuable service and distinguish you to donors, everywhere. Once your brand is built, all parts must be consistent within your disseminated content – your flyers, social media posts, and videos. Live it and show it!
Master Your CRM & Database of Donors & Volunteers
Email marketing continues to be an effective marketing channel for nonprofits. People like to see positive messages from companies that do good work. To get the most out of your email marketing, organize your CRM database to personally reach out to donors and volunteers.
Don't just send mass emails; make them count by generating unique interactions with individuals through certain segments of your audience. Identify what information resonates with these individuals to provide them with relevant information.
TIP: Personalizing your message to an individual will make her/him feel more connected to your cause.
Direct Mail to Make a Direct Impact
Direct mail isn't dead! According to Inman, baby boomers have a high direct mail response rate. It's worth noting that this generation also controls 70% of all disposable income. So, they have the money to donate to your nonprofit – don't miss this opportunity!
Use your CRM to measure responses and limit direct mail to audiences that are more likely to take action. In other words: target your direct mail to those people that are going to make your nonprofit an effective source of aid for your cause.
Grow Your Online Fundraising
Social media and Google for Nonprofits are great opportunities to increase your online fundraising through awareness and meaningful interactions. You can bring your nonprofit marketing story to life with YouTube, Google One Today, and Google Earth Reach.
These platforms allow you to create valuable relationships with like-minded individuals from anywhere at any time. Share and connect your online fundraising across the globe.
Measure Return on Ad Spend (ROAS) and Market Smarter
Focus on measuring the ROAS of your marketing and fundraising campaigns. If a campaign didn't yield results to justify the spending or effort, consider changing the approach or discontinue that campaign in the future.
With continuous shifts in demographics and consumer behavior, you'll need to make informed decisions on where to allocate your time and money for long-term success. When you consistently measure the performance of your efforts through your ROAS, you will stay alert to those shifts.
What marketing struggles does your nonprofit consistently face? Tell us in the comments, below! While you're at it, make sure to subscribe to our newsletter.