As video searches continue to increase, video marketing is becoming even more essential for a business to have an effective digital marketing campaign. In fact, a report by Marketing Land states that videos make up 62% of all Google searches. To ensure that your video performs well, here are 5 video marketing tips.
1. Video Marketing 101: Make Videos People Want to Watch
Although it appears that marketing and SEO are constantly evolving, one factor has stayed consistent, content is king. This holds true for video marketing as well. While all videos are different, they should all share the same goal of receiving sustained traffic and user engagement. To assure your video performs well, it needs to be engaging, informative, entertaining, and most importantly, shareable. In terms of how long the video should be, this differs based on the intention and audience of the video. With that being said, most viewers' attention spans are relatively short. Get your message across concisely in the most efficient manner possible, and your video will do great.
2. Select Relevant and Obtainable Keywords
Before you upload your video it's essential that you develop a list of relevant keywords to ensure your video is optimized. Ideally, your keywords should adhere to the three following recommendations:
Look for keywords that aren't too difficult to rank for (or else you'll never rank well). Choose long tail keywords (phrases typically 3-4 words) to help reduce the difficulty. This will allow you allow you to specifically target a particular audience. A great (free) tool for this is Keyword Finder.
Select keywords that are generating interest (or else no one will search for your video). A great (also free) resource for this is Google Trends. Just type in different synonyms and variations of your keywords, and see which ones perform the best.
The intent of the keywords should directly correlate with the content of your video. For example, if your keyword phrase is "Change a car tire," your video shouldn't be about how to fix your windshield or change your oil. Keep it it relevant.
3. Optimize Tags, Titles, and Descriptions
After you've composed your keyword list, you'll need to place them within the appropriate places. The three major areas for optimization are the tags, titles and descriptions (as seen in the image below).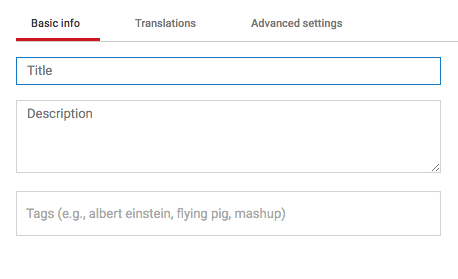 The title should contain your primary keyword phrase (the one you wish to rank for) and should be descriptive as to what your video is about. In terms of the description, YouTube allows video descriptions to be up to 5000 characters long. I would recommend that you use most, if not all of it. While most users are not going to read your entire description, the more keywords you naturally place within your description, the better chance you'll have to rank for them.
Tags are individual keywords that describe your video. Similar to your keywords, make sure your tags are relevant to the content of your video. The goal of optimization is to drive the right traffic to your video. If you choose tags for the intention of visibility and not relativity, then your video will more than likely receive an influx of dislikes and lower retention rates. Thus, having a negative impact on your rankings.
Since your video is not text based, search engines have a hard time indexing it. Providing YouTube with closed captioning gives them another source of information that contains the keywords you wish to rank for. Here's a video tutorial on how to upload your transcript to YouTube to create closed captioning.
5. Encourage User Engagement
User engagement is a huge ranking factor for YouTube. So how do you get viewers to engage? Try asking. Create a call to action at the end of your video, asking people to like, comment, share, and subscribe. With that being said, be aware that YouTube is full of trolls (people negatively spam commenting on your video). The good news is that YouTube allows you to moderate your comment section. That not only means you should delete the spam comments whenever possible, but you should also reply to comments as well. This two way engagement will help build a relationship with your viewers that will more likely cause them and others to comment more often knowing you're actually acknowledging them.
For more information about video marketing, contact us or leave us a comment below!
By: David McDowell