Local listing creation and optimization is an essential part of an effective SEO strategy for local businesses (businesses targeting their local market). For over a decade now, locality and local SEO has continued to grow importance and influence digitally. While many business owners understand this at a basic level, several fail to maximize their efforts.
When it comes to local listings, a lot of businesses take the "set it and forget it" approach. To ensure your business isn't leaving money on the table, you not only need to be listed on the top platforms, but you need to continuously optimize your account on a regular basis.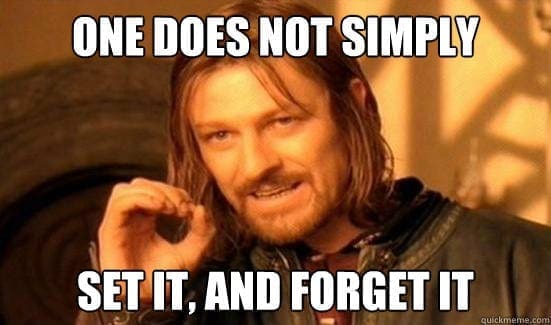 Below are performance metrics for some of our clients on two of the top local listing platforms – Google My Business and Yelp.
With nearly 150 million annual users and over 100 millions reviews since its inception, Yelp is a very important platform for your businesses to be listed and active on. It allows your business to showcase its products/services, information about the business, and is known for its reviews. Customers can voice their opinions/experiences first hand.
1. If not handled well, this can be a nightmare for a business.
2. If handled well, it can help boost your business past your competitors.
Below are screenshots of one of our client's Yelp analytics. Prior to us managing their account in August of 2016, our client was simply listed on Yelp. There were only a few images, business information was incomplete, and reviews were left unattended.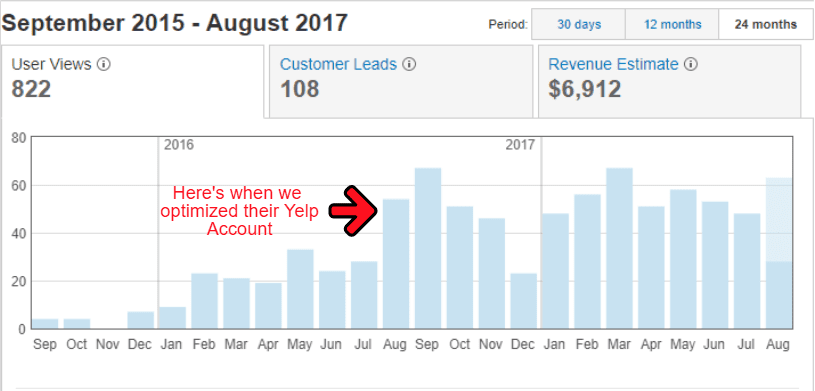 11 months prior to optimizing = 172 views – which is 15.63 views per month.
11 months after we optimized = 574 views – 52.18 per month.
A 70% increase of views per month!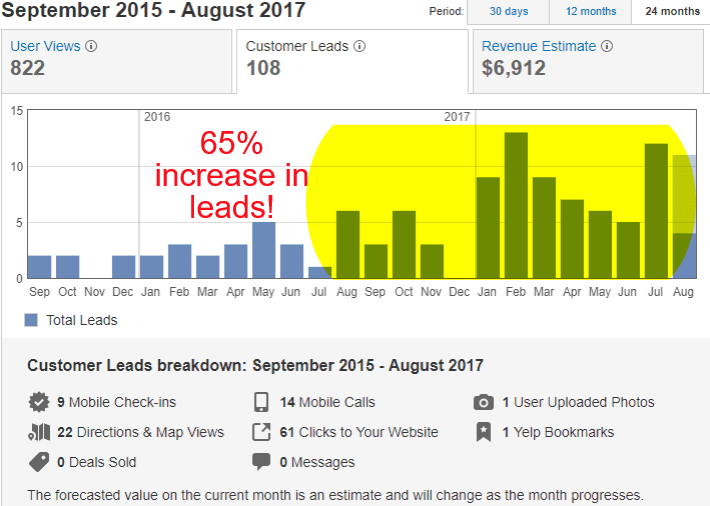 11 months prior to optimizing = 25 leads – 2.27 per month.
12 months after optimizing = 79 leads – 6.58 per month.
A 65% increase in leads per month!
Google My Business (GMB) is the most important local listing platform to utilize. Seeing that Google owns the lion's share of the search engine industry, it's important for your business to be on their local listing platform. Unlike other local listings, GMB results appear clearly with Google search results in either a widget form (for branded results) or within Google Map listings (for industry-related keywords).
We compared the 5 months prior to us optimizing our client's account, to the 5 months after. Below are the results.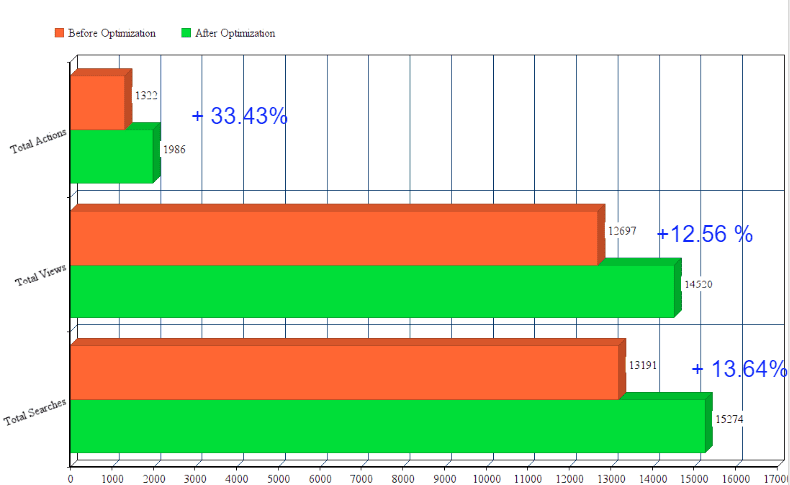 5 months prior to optimization = 322 total actions* taken by users.
5 months after optimizing = 1986 actions taken – an increase of 33.43%
5 months prior to optimization = 12697 total views.**
5 months after optimizing =  14520 – an increase of 12.56%
5 months prior to optimization = 13191 total searches.***
5 months after optimizing = 15274 – an increase of 13.64%
*For GMB, actions are defined as visits to your website, request directions, calls, and online chats.
** Total views includes both search views (views within Google Search) and map views (views within Google Maps)
***Total searches include both direct searches (branded searches) and discovery searches (industry keyword related searches).
Local SEO is a (as Donald Trump would say) YUGE digital marketing tactic for small/local businesses. With that being said, having a successful local SEO campaign takes consistent maintenance. Optimize and update your local listings to ensure your business crushes the local market.
By: David McDowell