Reading, PA – June 19, 2017 – Right Start Children's Services has enlisted the help of DaBrian Marketing Group to help parents and families find information about early intervention and pediatric therapy services available in Pennsylvania.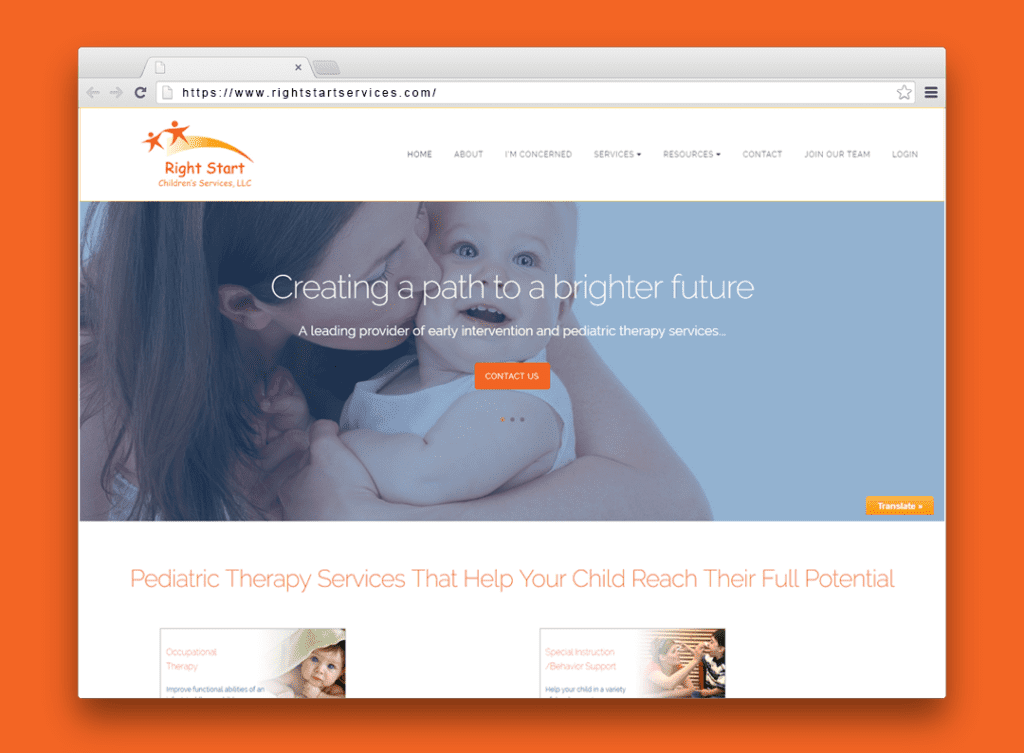 Many parents find their family therapists through a doctor's recommendation. In a rush to secure help for their child, parents often accept the first recommendation they receive, sometimes traveling to a nearby county. While immediate care is always beneficial, finding the right therapist in the right location is essential for the health and development of a child.
Right Start Services came to DaBrian Marketing not in hopes of growing their business, but rather in search of a website redesign to provide easy access to relevant information and helpful resources to help parents make informed decisions. The experts at DaBrian Marketing responded with a search engine optimization (SEO), content marketing strategy, and social media consulting to help parents find appropriate service in their area.
Right Start Children's Services has an existing presence on social media, specifically Facebook, which continues under the management of one of the company's owners. DaBrian Marketing provides account optimization and recommendations for Right Start's Facebook page, on-going consulting, and analytics reporting on their performance. DaBrian Marketing also assists with guiding Right Start to take the appropriate actions that will benefit their social media presence.
DaBrian Marketing performed extensive content optimization to help build awareness of Right Start's brand, services, and service areas. They also gave the website a modern look and feel, with features like a sticky header, which is a common feature that allows the user to navigate the site without scrolling to the top to choose a different page or option. Other features, such as a Google map with polygons that indicate service areas, improve user accessibility by clearly displaying the appropriate information. The new Right Start Children's Services site is mobile and tablet friendly so it fits correctly on screens of all sizes.
About Right Start Children's Services
As an Early Intervention and Pediatric Therapy provider agency established in 2005, Right Start Children's Services is a therapist owned and operated provider agency offering pediatric therapy services in a child's home, school, daycare, or community setting. Services include behavioral therapy, occupational therapy, physical therapy, special instruction, and speech and language therapy. Right Start serves Berks County, Lebanon County, Lehigh County, Montgomery County, and Schuylkill County Pennsylvania. Right Start Children's Services is located at 204 Cameron Drive in Douglassville, PA. For more information, call 1 (888) 532-4671 or visit rightstartservices.com.
Founded in 2008, DaBrian Marketing Group, LLC is a full-service digital marketing agency. Focused on providing original and strategic digital marketing solutions for businesses, DaBrian Marketing Group offers a number of essential services, such as include content marketing, social media consulting, web hosting, local SEO, email marketing, digital branding, search engine optimization (SEO), Pay Per Click (PPC) Advertising, web design, web analytics, social media marketing, and more. For more information about DaBrian Marketing Group, located at 500 Penn Street, Suite 201 in Reading, Pennsylvania, visit dabrianmarketing.com or call 610.743.5602.