Within 5 miles of our office, there are 12 plumbers. All of which appear in the local search results, but none of them clearly differentiate themselves from the others. While plumbers may be experts when it comes to fixing broken pipes and unclogging drains, many fall short of marketing their business to allow their customers to find them. Get your plumbing business flowing in the right direction with these 5 marketing strategies.
#1 - Tighten The Bolts of Your Brand
You can't fix a plumbing issue without tools, and you can't build a business without a brand. The building and foundation of your brand is essential for success and local awareness. Define your plumbing company by clearly stating what makes your organization different and create a unique value proposition that will be the foundation for your plumbing marketing. Your brand must be consistent everywhere – from print to digital marketing. Brand guidelines, a set of standards for the design of documentation, signage, and any other form of other brand identifiers, will help to bring consistency.
#2 - Local SEO: Be the "Local Plumber Near Me"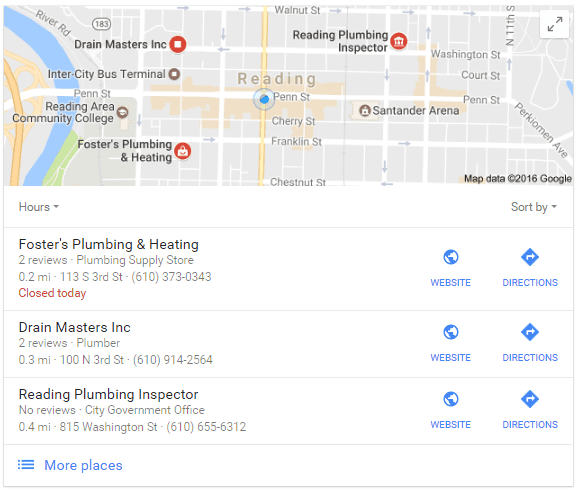 When it comes to search engine rankings, every business strives to be #1. What many don't realize is that due to Google's personalized algorithm, the top organic search results (for service related searches) tend to be businesses listed on Google maps.
To ensure your spot in the local pack, the content on your website should be specific to your service region and consistently show your name, address, and phone (NAP). In addition to on your site, this information should also be listed on your Google My Business. You should also include all of the services you offer within the region. This will help you to dominate in mobile searches and acquire positive reviews that will help you to stand out from the crowd.
You're an Expert? Prove it With Plumbing Videos
Videos are an effective plumbing marketing tool because they can be placed on your website, local listings, social media, paid search, and more. Videos are a great way to engage your audience and provide relevant information. Create simple "how to fix" videos for minor issues, such as a clogged sink. You want to provide your customers with tips they can do themselves, without giving away everything and the kitchen sink.This will establish yourself as an plumbing expert and build your audience's trust. Building their trust will improve new customer acquisition, extend brand reach and visibility via social sharing, link earning, and word of mouth, and increase your current customers' willingness to give positive reviews and testimonials.
Target Your Customers With Paid Search Campaigns
When I search "plumber near me", I see about 4 different plumbing companies running paid search campaign which appear before the maps and organic search. Paid search can be specific to your service region, banners, videos, text, gmail and mobile. It allows your company to be present when consumers are searching for your services. With remarketing, you stay top of mind as they make a purchasing decision.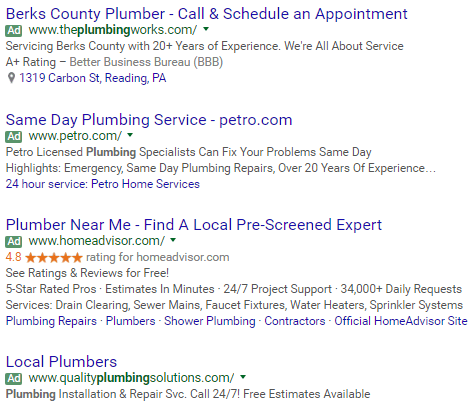 Measure Campaigns and Adjust Your Plumbing Marketing
Just as you would test a pipe after fixing it, you need to make sure your marketing efforts are working. Invest in the measurement of marketing campaigns to reallocate budget to successful campaigns. Just putting Google Analytics on your website isn't going to collect the necessary information. Most of the time, consumers are going to call you so you'll need call tracking connected to Google Analytics and your marketing efforts. Look at the entire customer process and what marketing tactics impacted the decision. This will give you more context to make budgeting decisions.
Have a leak in your plumbing marketing strategy? Let us know in the comments below, or contact us today! For more information, subscribe to our newsletter.