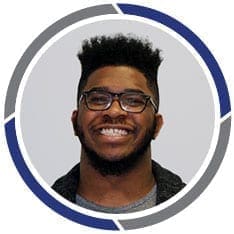 Marquise Richards – Social Media & Content Consultant
Marquise joined the team in January 2019 as Dabrian Marketing's Social Media & Content Consultant. He handles tasks such as building content, managing various social media platforms, and ensuring that campaigns reach their goal.
Marquise graduated from Reading High in 2014 and graduated from Susquehanna University in May 2018 with a Bachelors of Art in Digital Multimedia – Broadcasting and Theatre Studies. He has a background in video production, diversity and inclusion work, and understanding how social media interacts with culture. This has helped him gain internships with tech companies such as DreamWakers in New York and ShopRunner in Conshohocken, PA, which led him to his love for social media management.
Outside of his professional life, Marquise is a local creative in the city of Reading. He is the host/creator of the DearRDG podcast, Director of Outreach for S.O.I.L., and is an event curator. As an event curator, he has thrown large scale events with nearly 200 people, moderated small round tables, workshops, and also hosts community night discussions on the first Thursday of each month.